This is one of my favorite things to see in a kitchen. A plate, a papertowel and a set of tongs. It means that something special is about to happen.

Today that something special was Applewood Smoked Bacon!

Oh my goodness, it smelled so good as it was cooking.

It's almost like a beach - all the little bacons laying on the towel.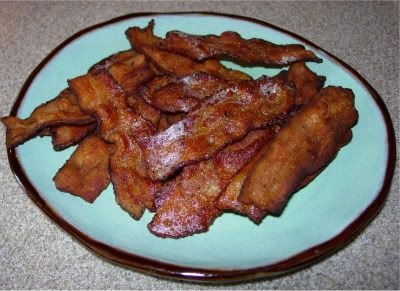 Here they are, all piled up on a pretty plate.

This is the beginning of BLT night.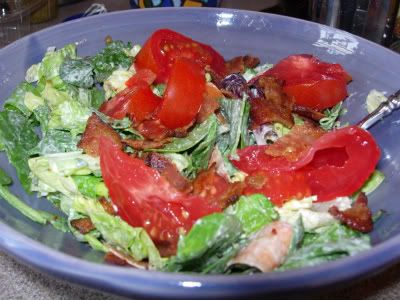 My husband had a traditional BLT in sandwich for for his dinner. Since I can't eat bread (it's a diabetes thing) I make mine a Bacon and Tomato salad with a mayo dressing. I use about 1 teaspoon of mayo and 1 teaspoon of milk and whisk it together to thin it down enough to coat the lettuce. My lettuce portion was a mixture of spinach, red and green butter lettuces, celery, carrots, green onions and fresh dill. I spice it up onion powder, garlic powder, & parsley flakes.

I forgot to mention the tomato. It's called an UglyRipe Tomato and it has taste! It's an heirloom tomato that is actually sold in my local grocery store. Ohh goodness they are good.

The applewood smoked bacon is so flavorful that I only needed two pieces, but I could have eaten that whole plateful!

Is there a favorite food or dish that you've reworked into a different way?
I linked this up to Ann Kroekers
Food on Friday
. I haven't participated in this carnival before but this week I've chatted about food so much, I decided I must participate :)
Thanks Ann! Please be sure to go over to
Ann Kroeker
's place to see what others are cooking up.
Have a great day!
Kristin