It's almost too late for this post, but I'm going to do it anyway. Today is Thrifty Thursday over at Leigh's
Tales from Bloggeritaville
. She hosts this carnival each week, but THIS week, she is off on a Beach weekend with her friends! (The nerve lol) So,
Chandy of What Now Tablescapes
, has graciously agreed to host Thrifty Thursday while Leigh is of town. So please hop on over to Chandy's and check out who else has joined in this weeks carnival.
I think it was almost a year ago that I went to an estate sale with my Mother. In fact we went to that sale three times that day. We kept thinking about things that we saw. However, on that first trip I saw these cookie cutters and I snatched them up. I grew up using a few of these shapes for our Christmas sugar cookies and have always wanted to have some like it. I think these were 25¢ each. Truly a thrifty thrifty deal.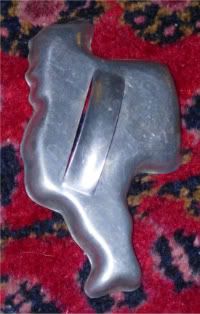 I remember when I would show my friends the cookie cutters this one was the "stumper." It does look kind of odd, but once you know that the big square on the one side is a sack full of toys, then the guesses all come around to Santa!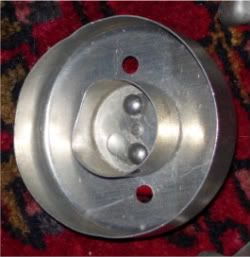 This little cutter was not in the estate sale finds, but my mother did own one and I've also been looking for it (with the little hole cutter still intact) and hadn't found one...until a few weeks ago.
I went across the hall to my 85 year old neighbor's home to ask her for a wine cork. She told me to start opening up the drawers in the kitchen because she was sure they were in one of the drawers. One of the drawers I opened had this biscuit cutter in there and I commented that my mother had one of those.
We found the corks, I thanked her & told her that I needed to be on my way. The next thing I know, she's pressing the biscuit cutter into my hand saying that she hasn't used it ages and she wants me to take it home with me. Once Virginia gets something in her mind, you can't say no. I've learned that about her. So I graciously accepted the gift and beamed for a whole day.
Those are my Thrifty finds for this week. One freebie and $1.25 out of pocket for a small bit of childhood nostalgia.
Thanks for stopping by!
Kristin