Ahhh,
Thrifty Thursdays
. A fun little time to hunt around the house, the garage, someone elses house and garage or even a thrift store or two to dig up some cool finds.
Leigh over at
Tales from Bloggeritaville
started this fun carnival and I have truly enjoyed the great finds that others have featured. So be sure and check the other participants as well.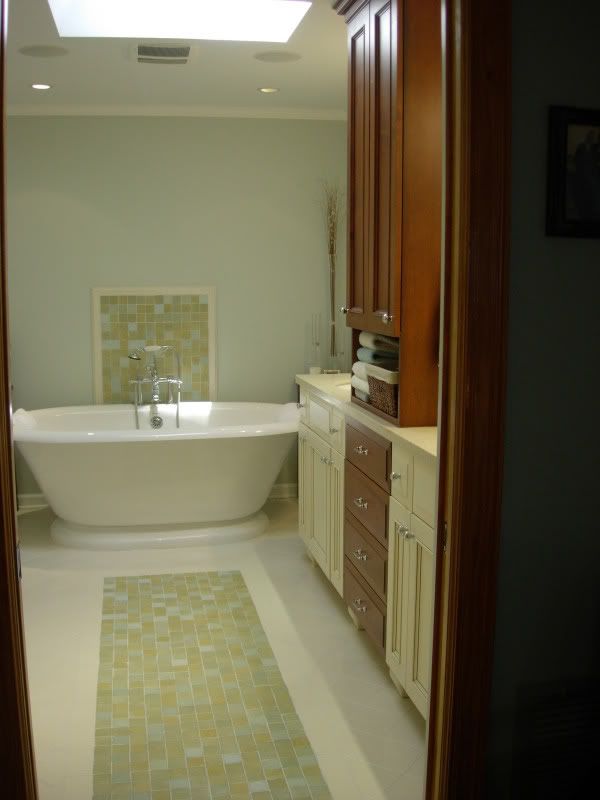 My Thrifty Thursday is not in my home. It's in a house that my husband and I toured on one of our many open house weekends. I am featuring this because it's a really thrifty idea, instead of redoing an entire bathroom full of tile.
The reason I know that the tile is original is because it's in a million older homes, there were a few cracks in the shower tiles and because I saw the tell-tale signs of the pencil marks on the tiles (for the tile saw.)
As you can see, when you walk into this bathroom it's stunning. The cabinets are new, the bathtub is new and the inset tiles are new, but the white tiles are original. The tiles in the shower were also original, except there was an inset in the shower floor. (The shower was off to the left side of the photo)
The "rug" was cut into the original tile floor. I am not quite sure if the tile that surrounds the rug area is new tile or if it was recycled from the one removed from the floor or from under the original cabinet. Usually the old tile is very difficult to salvage. In my previous home we needed to salvage a few squares and it was tough to get them without a chip or a crack. The color of the tiles though are identical, so I'm leaning towards recycle.
In the
Springfield house
flip that still hasn't sold (insert sarcastic smile) I saved the tile that surrounded the shower. To make it fresh, I just had the grout redone. It was a few hour project and made those tiles and the entire shower area just sparkle. This is what I believe was done in this bathroom. The floor was totally grouted a new fresh color and it makes the whole room look brand new.
I hope you liked my submission to Thrifty Thursday and I hope at some point you might be able to make a thrifty, yet stylish decorating decision when you update your space.
Kristin