I love a great idea & Make Do Monday's hosted by
Ann Kroeker
is a place where you can certainly find some great ideas on how to make do with what you have. "It's a carnival you can visit to celebrate creative problem-solving, contentment, patience and ingenuity," says Ann.
I talked about
Free Printables
on my Works for Me Wednesday post the other day (ummm, that would be Wednesday!) but I found a few more things that are a bunch of fun and they are also Make-Do artwork, joy and fun. The only thing you do need to pay for is the ink and the paper.
I love
Paloma's Nest
on Etsy. I purchased one of these
little blocks
for my mother for Christmas. I actually wanted to buy her several of them to make a little display, but for the price, one was perfect. I wanted one too - but once again, at $12 a piece, I really didn't need to spend that money. I kept thinking about those little blocks though. I still wanted one. (or a whole bowl full)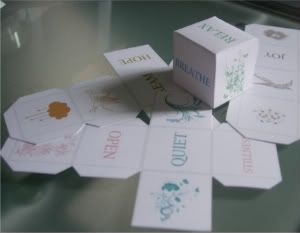 Yesterday I found a a blog that had a free download for these cute little paper blocks that you can print out, cut out, fold and use. FREE. I printed them out and that's when I realized that there were four blocks per page. So for the price of two pieces of cardstock and ink, I printed out these
Printable Blocks
from
Kind Over Matter.
I haven't cut them all out yet, since I just found them, so I'll be sure and post the picture of them when I do. (edited 4/6/09 - here is the photo!)
I also like to write letters and one of the things I liked so much as a kid were those cards that when folded turned into the envelope. You can write on one side and fold and tape it up and mail it out. I found an
adorable printable agenda
that has those envelope letters, ToDo lists, cards and all sorts of great items to print. Well, all of the words are in French, but that's half the fun! I have no idea what this blog says, but I look through it quite a bit. It's called
Cachemire & Soie.
Just moments ago I realized that I can translate the page into English. Well, I may keep it in French, it was more fun that way.
Please go visit these places to find your own fun printables but also be sure to head back over to Ann Kroeker's place to see what other folks have posted for their Make Do Monday.
Have a wonderful day!
Kristin