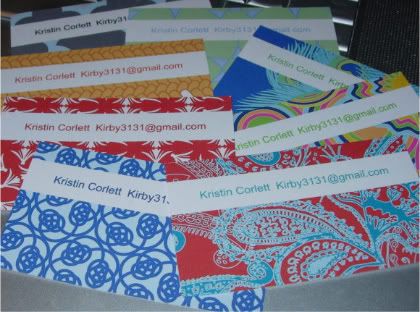 Ask and you shall receive.
I asked last week about free printables - I know, I know, it's all I've been talking about.
Today I found another one!
This one is for calling cards & it's exactly what I would like to take with me on my vacation to Ireland and the Isle of Man - I just wanted my name and my email address, but I didn't want to buy new business cards or spend a lot of effort printing up my own version.
I don't have photoshop or anything, so my cards would have been real lame! I'm clever, but not that clever.
So! Today I found these awesome
calling cards
on the
Cottage Industrialist blog
. She has an
ETSY
shop, but she decided to give away a free download today on her blog. The PDFs are editable, so you can put your own info on it (makes it a real calling card, huh? haha) and you can make each page different. You could have Marcy's Mom and phone number on one set and Karen's Tailoring and email address on another batch. In my case, I'm going to just have my name and email address.
I am so excited.
I think I need to go get another box of ink for the printer.
Kristin