My Mother-in-law, Joan, really likes Dr. Seuss. I have purchased a few Seuss sticker sheets and when I send out a card or letter to her, I try real hard to remember to put one on - just to make her smile.
A few weekends ago when Tom and I were going to some open houses, we happened upon this really great house. Actually, it was superbly decorated more than it was a great house. The bedrooms were teeeeny tiny as I recall - yet the master bedroom was gigantic.
So this fabulously decorated house had this fabulous Dr. Seuss print. I tried to get a photo of it without all of the extraneous lighting reflecting of of the glass but that didn't seem to work.
I don't think I had ever seen this piece before - and I didn't realize until just a few minutes ago that the gown she is wearing is see-through!
How scandalous!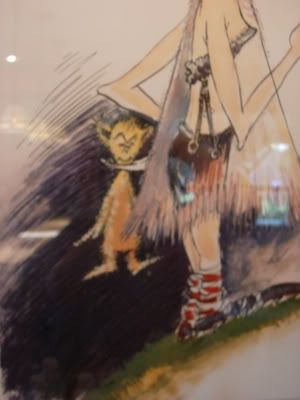 The little creature child looks like one of my favorite characters that he drew - the little bear looking characters with the pointed ears.
I love the red striped socks the woman has on her feet, too.
My very favorite Dr. Seuss character was Horton. I can still hear the song (from the original show)
...boil that dust speck, boil that dust speck.
Do you have a favorite Dr. Seuss book or character?
I'm also pretty fond of One Fish, Two Fish, Red Fish, Blue Fish.
Have a fabulous day!
Kristin
EDITED to add:
My friend Rachel looked up this piece online and this is what she found out about it.
This piece is called Martini Bird and it sells (unframed) for $1695
it's a limited edition.....looks like only 1000 made.
"In addition to being unveiled to the public for the first time through the Art of Dr. Seuss Retrospective and International Touring Exhibition, four rare works from the Dr. Seuss Estate were created as special Tour Editions. These pieces are available as a matched number set of five Tour Editions, and include the Horton Line Drawing."