I found this LiteBrite toy, game, online time waster lol
HERE
Boy did I have a nice time playing with it.
But it was because of
Black*Eiffel
that I even found out about the LiteBrite. Black*Eiffel is a neat website where they talk about people, places, things and ideas that are interesting. I guess any place is like that really - but Black*Eiffel is more of a design blog.
Did you ever have a LiteBrite as a kid? I didn't. I think it's because it had small parts. My mother was not a fan of toys with small parts. I think my sister Alison (who is 6 years younger than me) had one. But it might have been Hillary (13 years younger than me.) I can't exactly remember when the small parts were allowed into the house, but at some point I remember seeing the LiteBrite in the girls closet.
The picture above is a scaled down version of the one online - but that is my picture. I made it. They are tulips. My baby sister's favorite flowers are tulips and I was thinking of her when I was putting my LiteBrite pegs into the screen. I thought about how I'd like to send her some tulips.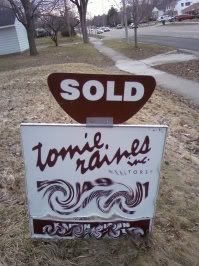 Last month I talked about a
Cute House
and that Cute House is now Hillary's House. She signed the papers & got the keys. I'm so proud of her.
Happy Housewarming to you, Hillary!! Hope you like the Tulips!