It's another
Works For Me Wednesday
. This is a blog carnival where hundreds of folks gather to share their tips for better living, better blogging, fun ideas and who knows what else! It's always a good time on WFMW days.
This week I want to introduce you to something that you may have seen already, but had no idea how it was made. It's so easy and fun!
It's called
WORDLE
.
Wordle is a toy for generating "word clouds" from text that you provide. The clouds give greater prominence to words that appear more frequently in the source text. You can tweak your clouds with different fonts, layouts, and color schemes. The images you create with Wordle are yours to use however you like. You can print them out, or save them to the Wordle gallery to share with your friends.
One of the things I have found is that you can't "Right-Click" and save the image. So you have to use the Print Screen feature on a PC or use the Apple-Shift-4 combo on a MAC to save the image. I then put them into my
Photobucket
account and edit them from there. (Resize, rotate and crop)
The text I used in the images was from some text that talked about gratitude and the qualities needed to be a Fabulous Person. I also added in a few words so that they'd show up in the graphic - like Works-for-me-Wednesday. To keep words together put a dash between them. If one word stands out too much - delete some of the duplicates. If you want a word to stand out more - write it in your text a few more times.
I take the text that I want and put it into my email program and save it as a draft. That way I don't lose the text if I happen to close the window. (Hmmmm, I wonder how many times I've done that!) When I edit the text, I do it in the saved draft.
You can also direct Wordle to a URL and it will create a word cloud from that front page. That's fun, too.
Without further ado, here are the graphics I created today. All in about 15 minutes.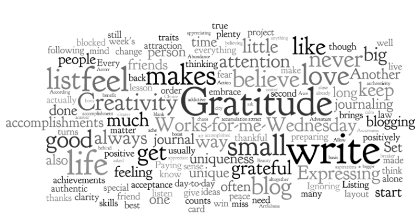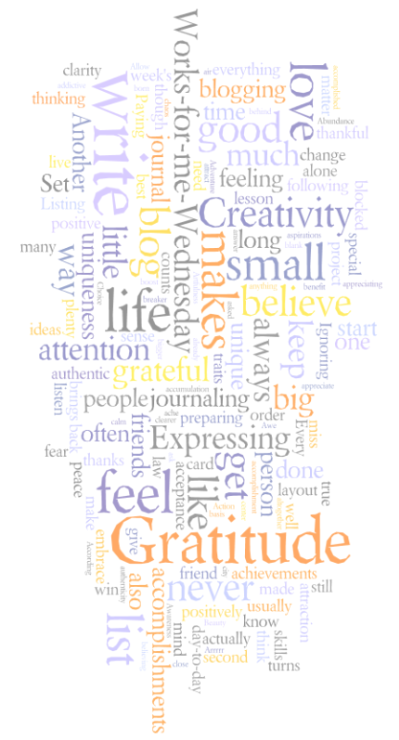 I think these would be great to use as an insert in a card or even as the feature on a handmade card. You could put your children's names, their date of birth, and party words into the text area and use that as a party invitation. I've printed out a few of my favorites and have them on my bulletin board as inspiration.
I left several of these images large, so you could really see the words, but as you can see, they can still be quite striking when they are small, too.
I hope you enjoyed this weeks Works For Me Wednesday. Have a Fabulous, Wonderful Week!
Thanks for stopping by.
Kristin