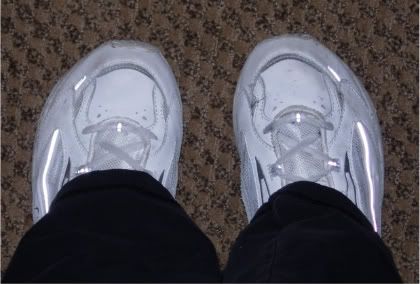 The Shoe Saga.
I buy white
Ryka Tennis shoes
, size 9 Wide. I was just going to order them online but I noticed that they had changed the style of the shoe and that usually spells disaster for me, so I went to the mall.
Lady Footlocker sells these shoes, so I went in there. The selection wasn't great, I have to admit. I was going to try to break away from my "white tennis shoe" rut. I think it's only been 20 years. That's not a rut is it?
So I asked for 9 Wide.
He came out with an 8½ and a 9½.
I said no way. I tried on the 9½ anyway. Way too big.
He said he could order the shoes. I finally agreed.
As he was typing I said "Please make sure you are ordering a 9 Wide"
He said "I did"
Two days later the shoes arrived in my mailbox.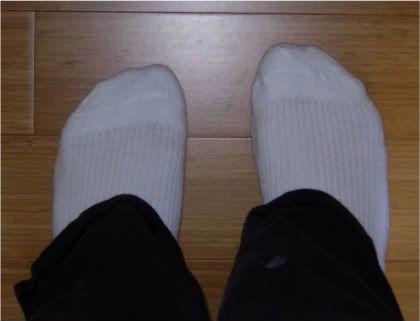 My feet were anxiously awaiting the new shoes.
I have completely worn out the arch in the shoes I have now.
New shoes usually last me about 6 months, sometimes less if I have upped my walking, but 6 months is the average. Usually I buy two pair at a time so I don't have to do the shoe shopping thing too often.
I opened the package and the big 9 stared me in the face. Where's the W? Where's the WIDE?
I tried on one shoe.
It felt like a vice. Not good for a diabetic with tender feet.
I called the customer service number and the very nice man told me that I had to take the shoes back to the store where I was two days ago. They could then reorder the shoes in the proper size.
So back to the store. (I'm not happy)
I get there, explain that I needed a 9 Wide and that I confirmed that fact when the sales associate was putting in the order. He told me that's what he ordered.
This sales associate got on the phone and then explained to me that there was no way the guy the other day could have ordered a 9 Wide because there wasn't a SKU in the system to be able to order it.
blah blah blah
All this meant was to me was that I had to now go back to the store in a few days to pick up the second pair of shoes, hopefully the correct size. They couldn't be sent to my house because the SKU number didn't exist in that store's computer.
Maddening.
So I had to take back the shoes that were the wrong size and bring them back when the others arrived.
Here I am in the new shoes at the mall. They don't look much different LOL But they sure feel a lot better on my feet. They are so shiny that they hurt my eyes in the sunshine.
I guess I should go ahead and order another pair online since I know these fit properly.
Let's see... One pair of new shoes = 3 trips to the mall in 5 days.
I noticed in all of these pictures that my right foot is turned in towards my left foot. I thought I had turned it out before I took the picture (ya know, always working towards perfection!) but I guess it slipped back without me noticing.
I have been doing a lot of walking lately and that foot really turns in when I walk. I have to think about it, concentrate on it to keep it fairly straight. How odd. I just wanted you to know that I noticed the foot thing :)
I hope none of you have to go through a shoe saga.
Kristin
Oh, I have to mention. Another blog that I've been reading lately,
Dust Bunny Hostage
, was also talking about shoes the other day. She mentioned these Eddie VanHalen shoes that I thought were pretty cool! Now if they came in a 9 Wide LOL with excellent arch support, and leather...