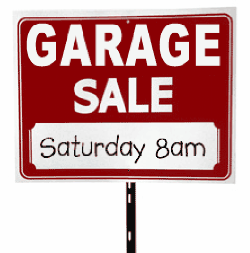 Less stuff.
I've really wanted to get rid of my stuff for a long time. Not all of it, but a lot of it. I have two garages that are filled to the brim with stuff that I don't want.
When I went to the Transplant Support group a week ago, one of the ladies said that her neighborhood was having a garage sale this weekend. I picked up on that so fast it made her head spin. I asked her if I could join her in her sale and also work it with her. She agreed!!
I have lived in the worst places to have a garage sale for the past 15 years. For the past 6, I've lived in gated communities where there is a ban on yard sales. When my husband and I moved to Florida we had an auction to get rid of our excess stuff (or some of it!) and we got rid of about a third. We really needed to only keep a third and sell the rest.
I cleaned out my computer room the other day so that the computer guy could find everything and not trip over anything. I put everything into our spare bedroom. Ugh. It's full. The cat has a path to the bed, but that's about it.
So, this week I cleared out my stuff and I took it over to my friends house for a garage sale. I can't wait. I normally just give my stuff to GoodWill or the Salvation Army drop off centers, but it would be really nice to collect some cash for the upcoming trip to Ireland.
I went through the cookbooks, kitchen drawers, the bathroom closet, the guest room, all the closets in the house and the two garages.
I have linens - so many piles of linens. These are going to the Lending Closet that we have for the Transplant Patients and those that are not needed will be placed in the garage sale.
I have so many things that didn't work for the rental condos, that I've just kept around and I don't use. Those things are going straight to the garage sale.
I was brutal in my giving to the lending closet and to put in the sale. I loaded up the car three times.
Now lets hope that this sale is a good one. It's supposed to be a great day - mid 70s and mostly sunny. The advertised time is from 8-12 but I hope that people keep coming until 2pm or until I completely sell out. The remaining items that can't be used by the Lending Closet will be driven over to GoodWill and dropped off. It's not coming back into my home or garage.
Have a fabulous weekend!
Kristin
*image from Photobucket.com