Today is my sister's birthday.
She's the middle one and she's the one with the children Zora and Stella, who were also born in April.
My friend Steve had a birthday on the 3rd, my Uncle Matthew had a birthday on the 2nd.
My Aunt Marg's birthday was just a few days before Matthew's at the end of March.
I sent Birthday greetings to three people on Facebook who had birthdays yesterday and my Aunt Jane named off half a dozen more people that we knew with birthdays in April.
Goodness!
I guess there's something about August that is conducive to baby making!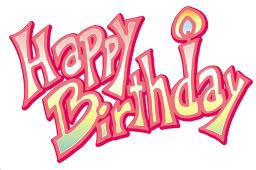 Happy Birthday to everyone having one of those fabulous days in April.
Make it a great day!
Kristin