It's another
Works For Me Wednesday
. This is a blog carnival where hundreds of folks gather to share their tips for better living, better blogging, fun ideas and who knows what else! It's always a good time on WFMW days.
The host of WFMW, Kristen is talking about her favorite blogging tools. I really need to upgrade my blog and use some of these items, that's for sure.
Today, I'm talking about a few ideas I've done recently to spice up the exterior of a package or envelope. A few years back I ordered 100 - 1/2 sheet mailing labels (there are two labels per page.) I have a lot of them left, so I've been finding fun ways to use them. Remember when I talked about all of the printable downloads that I've been finding?
(here
) Well, I printed a bunch of them onto the mailing labels and cut them up like stickers to put on my packages.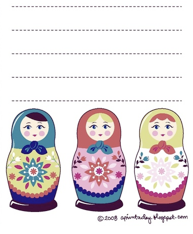 I printed these wonderful little ladies,
Matrioshka
, from the
Print A Day
website. I put the name and address of my recipient on the lines above the dolls. It really dressed up the envelope and made it unique.
I print out other lovely pictures, too and have added them to the envelopes, the inside of cards, etc. The label paper has been a lot of fun lately.
However, you don't need label paper, or sticker paper to use these as labels. I used regular printer paper when I made this
Dove
, also from Print A Day. It's pretty large - nearly an entire 8 x 11 sheet of paper - I just sent off a package this week using this label. I just filled in the address & used packing tape to adhere it to the envelope. I made a label just for this blog post - I'm not sure if there is such a place as Popcorn, Arizona!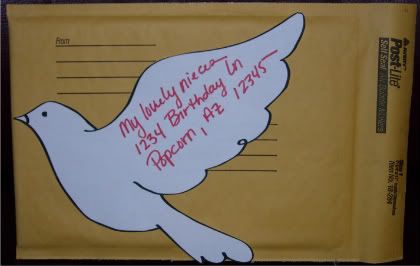 I really enjoy sending out letters and cards and it's always nice to spice up the envelopes without taking hours to do. This method just involves your computer, printer and piece of paper and tape or shipping labels. The shipping labels I found online just a few minutes ago seem to run about $10 for 100 sheets. That's a lot of sticker fun!
Have a wonderful day & be sure to check out more
WFMW
posts.
Kristin