Friday Fragments!!
I never quite know what I'm going to talk about for my
Friday Fragments
post. Sometimes I have a million little snippets of stories that I want to tell, last week it was a collection of funny photos and other times the collection of fun links and printables is just too great to ignore.
This is the link fest week. I have found some really cool stuff and hope that you can take a few minutes and click on the links. I've highlighted them in purple so they are clearly visible.
Have a wonderful Friday and beyond and please visit the wonderful
Mrs. 4444
who put this carnival together. She's just grand!
*•-:¦:-•:*''''*:•-:¦:-•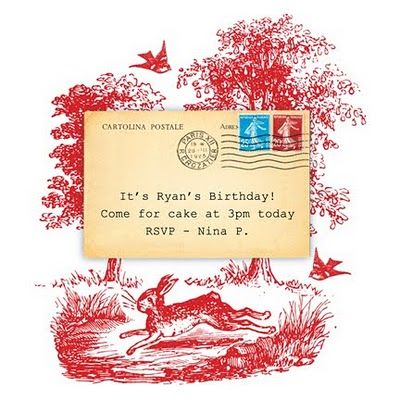 The picture above is a new cool way to send a message. It's from
Cafe Cartolina
and it's an iphone app. If you've got an iphone, this would be such a great, fun way to send a message.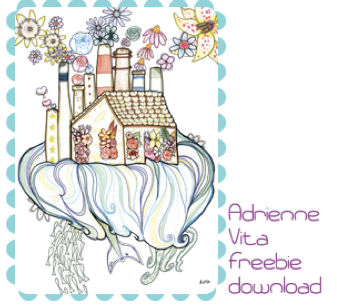 This is one of my favorite free downloads. It's from Indie Fixx and it's part of their
"Feed Your Soul:the free art project."
I print this out as a postcard size (2 per page) on 1/2 sheet label paper. It makes for a great address label. There are at least 100 free art pieces that you can download. You can even use them on your blog as long as you link back to the free art project.
I love these
luggage tags
from
Just Something I've Made
. Oh and the next post down from that she made some
vintage tags
. They are free printables. Thanks JSIM!!
800 recipes
! Oh My Goodness, 800 vintage recipes. I want this so badly I can hardly stand it. Ask me if I need it. (I don't) Ask me where I'll keep them. (I have no idea) Ask me if it's a clutter piece. (It is) Ask me if it doesn't matter and I want it anyway. (I DO!) I wrote this post last week and thankfully someone else has snagged this item before it ended up in my house. I'm still going to link to it because it made me happy!
*•-:¦:-•:*''''*:•-:¦:-•
Have a wonderful day!
Kristin