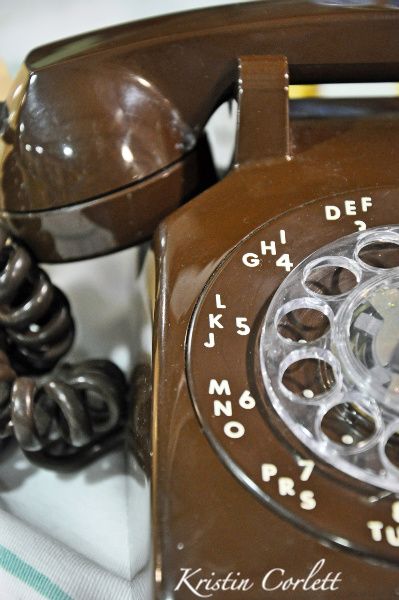 POTD - Rotary Dial
©2010 Kristin Corlett
I was wandering around an antique store when I spied this rotary dial phone. I can still hear the sound the phone makes when I used to use my own rotary dial phone so many years ago. Growing up my phone number was rotary dial friendly as all the numbers were five and under!
Enjoy!
Kristin
When I posted this on FB we had quite a lively conversation so I'm editing this post and adding in these comments.
#
Ruth Ann -I have two rotary phones in my house a pink one and a brown one like pictured! They are very special to me because my grandparents always had one in their house! Everytime I hear one ring, I think of them!
#
Me --See?! You do have things to photograph that are very cool :)
#
Lisa -My husband still has a white one, just like this in the garage. He's mad because when we switched to digital phone, it stopped dialing out. Thankfully he can still answer calls from it though. He refuses to switch to the new wireless with caller ID I bought for the garage.
#
Julie- We have one too.....in the Basement (dungeon).
#
Mom -still have the red dial phone up in the attic. I always hate to answer it tho.....never know who it is :o))
#
Steven -I have a red "bat phone" just like it in my basement
#
Sharon -Makes me think of the cartoon where the Mom is looking everywhere for the "cordless" phone and her 5 or 6yr. old said "why don't they put a cord on it so you could find it easier?"hehe
#
Kelly -And, do you remember when you thought you were cool if your car had an AM/FM radio AND a cassette player???
#
Nancy -Or how about the 8- track player?
#
Julie -8 track..I had one in the "Big Blue Van" my mom and dad let me drive when I was a teen. Along with my only 2 tapes (Three Dog Night and KC and The Sunshine Band) wooooohoooo
#
Alison -We also had a big blue van with an 8 track.
#
Me -We had a few 8 tracks for that blue van - We may have had KC, too - but I know for sure we had a Dolly Parton 8 track. It had the song Jolene on it.
I didn't realize that the rotary dial phone would bring up so many stories - I love it!! It's been great reading all of these and knowing that the rotary dial isn't extinct :)
#
Nancie -My very first personal phone put in my bedroom (this was 1968 after all) was a buttercup yellow rotary dial. It was SO cool. And such a big deal that I had it to myself.