I went to a diner the other day, all by myself, so while I was waiting and after I was finished I took some photos of the place.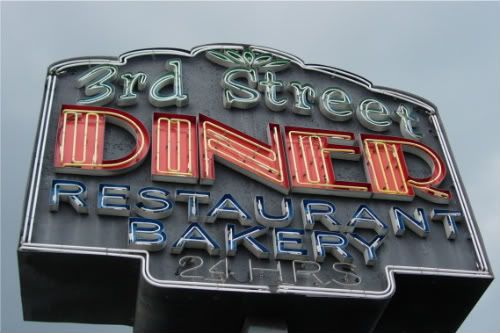 This is the diner sign. 3rd Street is the main street down by the beach in Jacksonville, FL. (A1A)
3rd Street diner is owned by George Kouroumanos. They don't have a website or I'd link to it.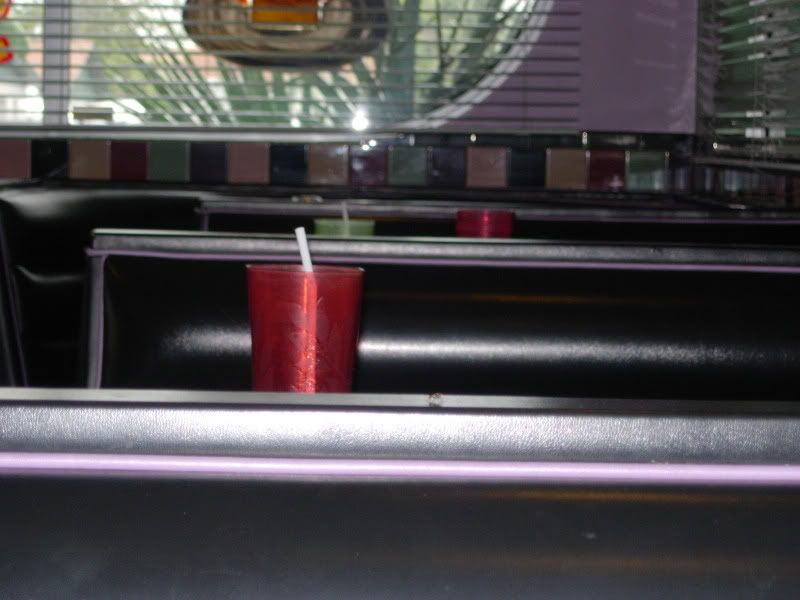 While I was waiting for my drink to arrive I took a look around me. I really liked the drink glasses peeking out from the booths :)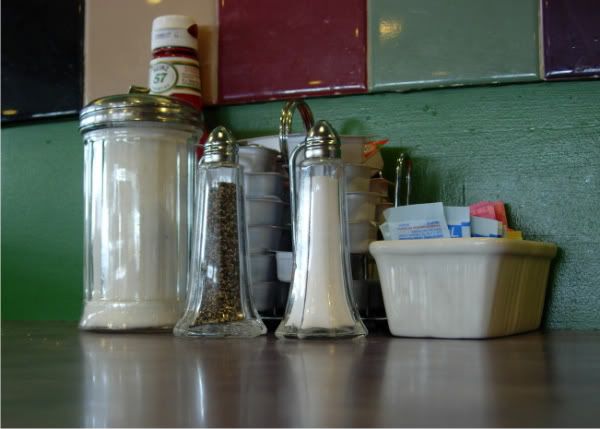 The condiments on the table. All the typical items...sugar, salt, pepper, jelly, etc.
Then my drink arrived. It was a dietCoke. I hadn't had a soda in months and this was a lovely soda. Ice cold, perfectly mixed and a bendy straw.
ahhhhh refreshing!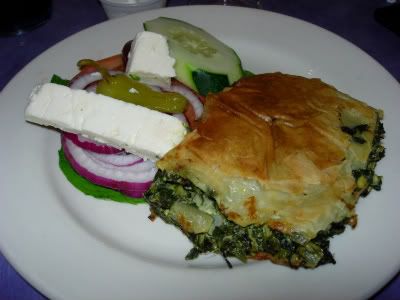 They had the BEST taztziki there. The best I've had in a very long time. My lunch consisted of Spanakopita (Spinach Pie) and a garnish of feta cheese, cucumber, tomato, onion and lettuce. Oh and a side of taztziki sauce.
*edited to add - The spanakopita was indeed fabulous. It's the best I've had in a long time.
If you've never tried it (taztziki sauce), here's a recipe from All Recipes.com that I just found. It's pretty easy to make I see. I may have to whip up a batch myself!
Taztziki Sauce
2 (8 ounce) containers plain yogurt
2 cucumbers - peeled, seeded and diced
2 tablespoons olive oil
1/2 lemon, juiced
salt and pepper to taste
1 tablespoon chopped fresh dill
3 cloves garlic, peeled
In a food processor or blender, combine yogurt, cucumber, olive oil, lemon juice, salt, pepper, dill and garlic. Process until well-combined. Transfer to a separate dish, cover and refrigerate for at least one hour for best flavor.
My favorite photo. The bar stools or as I called them - the whirly stools - that curved around the bar. Many people were sitting here throughout the time I was there, but at this particular moment everyone was gone.
Do you have a Greek diner near you that you enjoy?
Kristin