Leigh from
Tales of Bloggeritville
hosts
Thrifty Thursday
each week. We are on week 21!
She describes the event as "...a show and tell of sorts. It is time for you to showcase your thrifty find. It can be an old find or a new one. It might be something that you found at a thrift store, a consignment store, flea market, garage/yard sale, dumpster diving, even antique stores. If it was a thrifty find, then it meets the requirements. I am not picky, It can be a great pair of boots & a killer vintage dress, jewelry, home decor, even fishing lures. It is your thrifty find."
This week I found this little vintage find right in my kitchen. It's kitty string holder and it was my grandmother's. My Grandma Corlett's to be exact. My mother had it in her home for 10 years or so. This item has been on my list of things I'd like to have for quite some time, so a few years ago she packaged it up and mailed it off to me for my birthday or Christmas.
It was a great day indeed!
I think squealing was involved.
As I was taking photos of kitty, I realized how cool these photos would be all lined up in a row. I think I'd frame them in a natural wood frame or in a beigy colored frame to match the color on the top of kitty's head. Oooh, maybe even a cherry frame.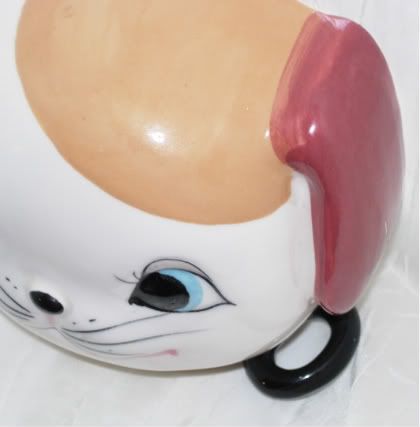 I found a Vintage Kitty Holder just like this one on eBay -
HERE.
It looks pristine and is listed at $38. My kitty was totally free :) but mine is also broken, the collar piece where the scissors are to hang, was broken off at one point and glued back on. I think it adds character to the piece.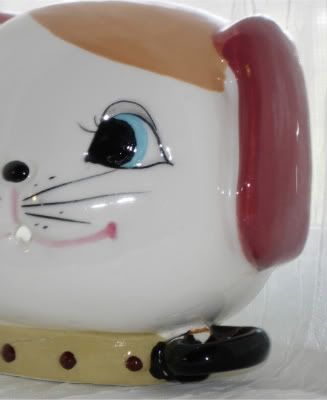 What do you think? Do you think this would make a nice 4 piece framed collection? It might look real cute in a kids room. Maybe a sewing room or a laundry room.
I've seen all sorts of kitty string holders in antique stores, so if you like this thrifty find, I'm sure you can find a good deal out there. If you want one that's perfect, it may be a bit pricey compared to one that's been "aged" like mine.
Thanks so much for stopping by & be sure to check out all of the other participants in
Thrifty Thursday.
Kristin