Have you ever found something an wondered where it came from? why it was left behind? did someone lose it? is it available for you to take home?
I've picked up change and even a stray dollar bill or two. I've even found a 100 dollar bill in a telephone book in a hotel room. I've found scraps of paper, bottles, sunglasses, bottle caps, and all sorts of shiny things that caught my attention.
Some people though have found Art. (The Be Kind piece shown here is from
Robayre
and she blogged all about it
HERE
.) Found art is art that others have made and left behind for someone to see, to pick up, to take home and to enjoy. I would have so much joy in my heart at finding such a piece.
Found art doesn't even have to be something fancy - it can be as simple as a doodled envelope, as shown above - blogged about
HERE
on Robayres blog. Robayre = a woman named Robyn.
Robyn has made several items for Found Art Tuesday - you can see her
Flickr page
where she shows a lot of the pieces she's done for the Found Art project. I think even a few others have loaded in their pieces as well. I plan on going back there regularly to see what's been created and left behind.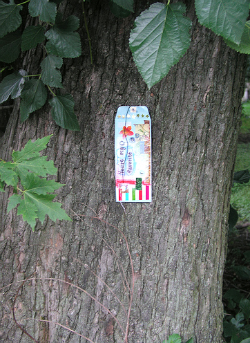 This is how she left the envelope that she made (above) - she just tacked it to a tree. I know if I was walking by and saw something on a tree, I'd go and investigate. One of her latest pieces was a small zipper bag that had a note that explained that this was found art - take it home and enjoy it or give it away.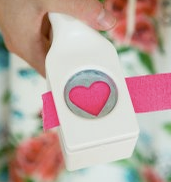 Yesterday I found such a nice surprise when I went over to
Color Me Katie
. She decided to put a little love out into her neighborhood by punching out heart shapes and taping them in some unusual places. You have to see what she's done.
Neighborhood Love
I have to admit, I've got a pocket full of hearts, a roll of tape and a camera on me right now. I've got some errands to run.
Maybe later I'll drop off some art for someone to find.
I love it when Monday begins on such a high note. What a wonderful gift to give myself and what a way to start a brand new month!
Have a fabulous week.
Kristin