Last week I mentioned finding the book "Wreck this Journal" at Barnes and Noble. I have really been having fun playing in that book - especially now that I've broken open that box of crayons :) Last night I stumbled upon a group that had just started their own Wreck This Journal project - 75 people have posted about what they've done to their journals. I just couldn't pass up being a part of that group.
The host for the group is Jamie at
The Next Chapter
. I hope you go visit and see what other folks are doing to wreck their journals.
I missed being a part of week one - although I do have a first post of my journal wrecking -
here
.
Yesterday was the day everyone else posted about their wrecking for Week 2 - so I'm just a day late.
Here's what I've done so far. You can click on the photos to get a larger view.
This page said to
trace the things in your purse or pockets
.
I chose a nice selection of items from my purse. My camera is always in my purse...but I have two so I was able to take a picture of the camera with my camera :)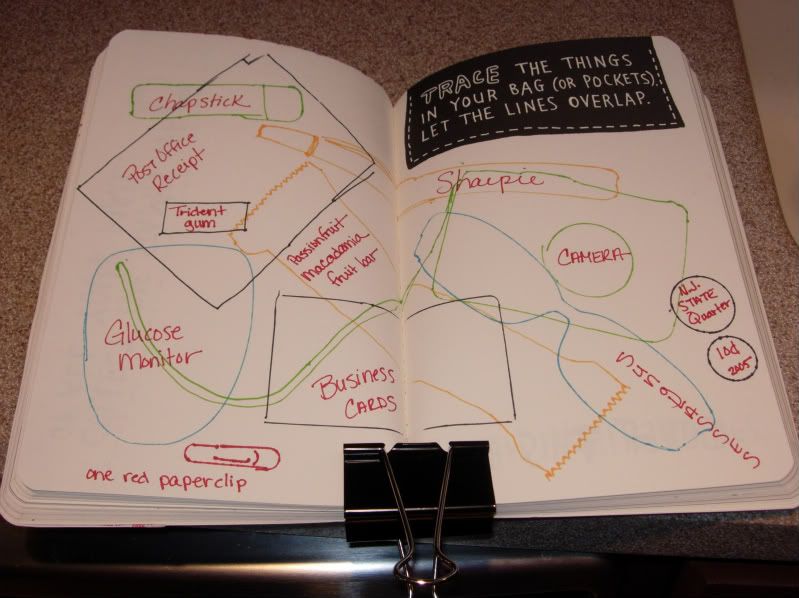 Here is my tracing of the items (with the lines overlapping, as instructed) and I added in the descriptions, too. The only item I had trouble tracing was the paperclip...a combination of fat fingers and a small thin paperclip.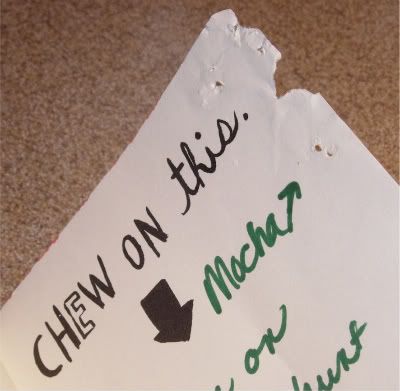 Chew This page...
I didn't want to chew it, but I knew if I got my cat interested at just the right moment she would go to town. Sure enough she started looking for pieces of paper to rub up against & chew. She found a receipt hanging off the edge of the coffeetable before I found the right page in my book. I offered her up the page and she gladly chewed and pulled at the paper. I'll try to temp her another day so it can be a bit more chewed up than this, but for now, this is great.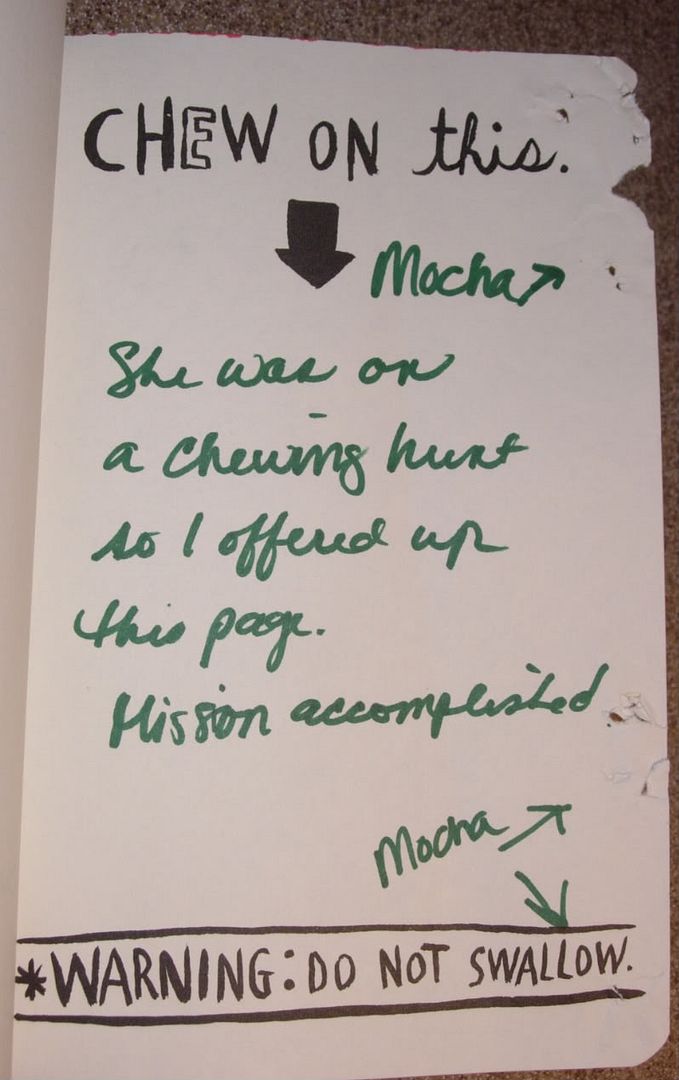 Burn this page
- I asked Tom to help me with this one. I wanted to light the toothpicks on fire and poke them through the paper, but that didn't work too well.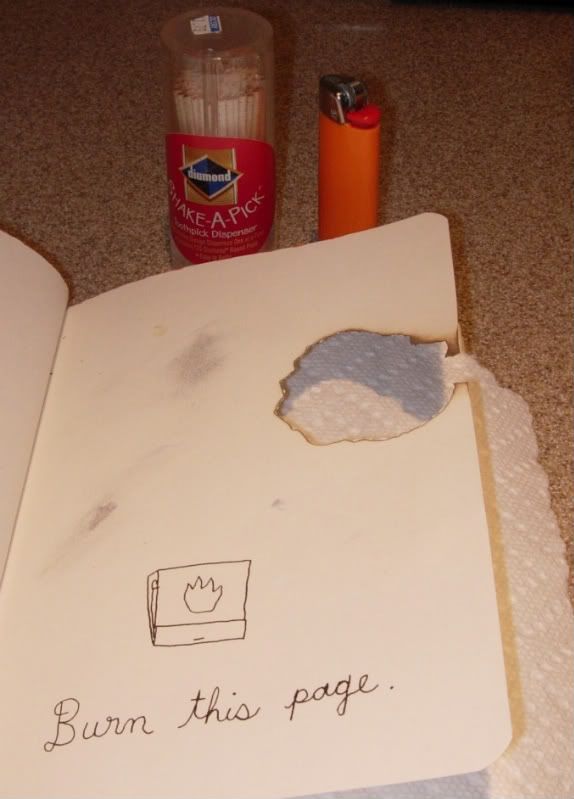 The toothpicks disintegrated before I could get it through the paper. Tom managed to get one to go through, but we sort lost control of the fire. The hole got a little bigger than planned. That's OK, we were standing next to the sink.
Since I had just opened up my crayons, I decided to color on the page I had just started - the Burn Page.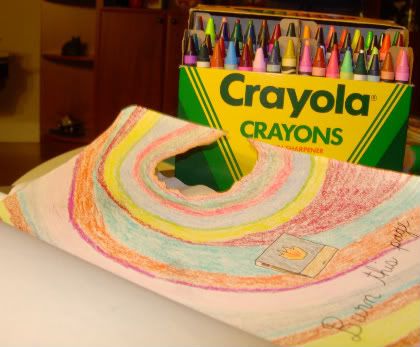 Write One Word over and over again
.
I looked around the house trying to think of what word I'd like to write. Maybe it would be something that I loved like my husband or my cat. Maybe it would be a food that I enjoyed eating. Maybe a TV show, or a flower or something refreshing.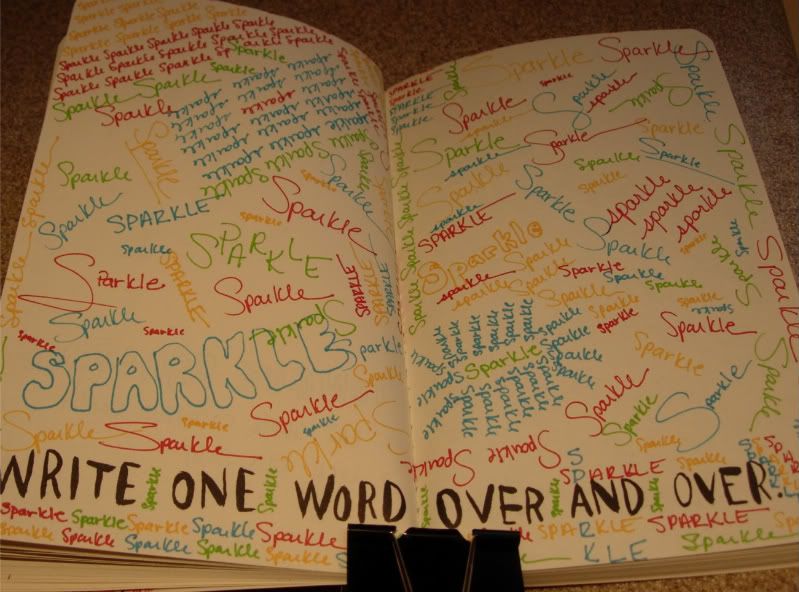 Just when I thought I could never choose just one word out of the millions out there, I spotted it. My favorite bottle of window cleaner, Sparkle, was sitting on the coffeetable. It still needed to get put away after cleaning the glass on the table. Sparkle was a great word! So Sparkle it was.
This has been so fun! I hope you've enjoyed my wrecking.
Kristin