Each morning I walk into my bathroom and I smile. I just love this white cabinet that we purchased especially for this bathroom and the basket that I bought several years earlier. I think it's always great to surround yourself with things you love and make you smile, but I didn't realize how much I loved this until the other day. I started really looking at it and decided to start photographing it, so I could document my slight obsession with my bathroom furniture.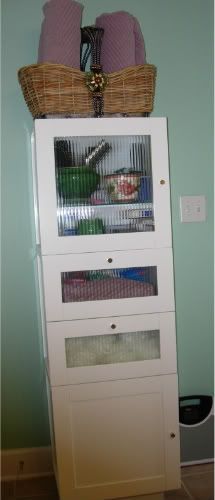 This is the cabinet. I took about 4 photos of this and all of them were tilted LOL I think it's user error. I'm sure of it actually!
The cabinet consists of three individual boxes attached together. One with a solid door, one with two drawers and one with a glass door. We got them on sale at Hold Everything just a week or so before they closed their store. (I was SO sad. I loved that store.) I think each box was originally $100 - but I think we paid $125 for the whole shebang, maybe less.
This beautiful basket. Goodness, I love this thing. I got it at Pier One one day when they were having a picnic basket sale. The parameters of the sale were that all baskets that had a handle were considered a picnic basket and were 50% off. It was an expensive basket and one that I would have never considered buying. But at half off, it was very tempting. Obviously too tempting :)
The front little flower is made from a large green glass disk with a gold metal detail on the front. The handle is twisted metal rubbed with gold and silver coloring. The base is a sturdy piece of silver metal that's attached to the basket. The other side of the basket has the same details, so it doesn't matter which way it faces.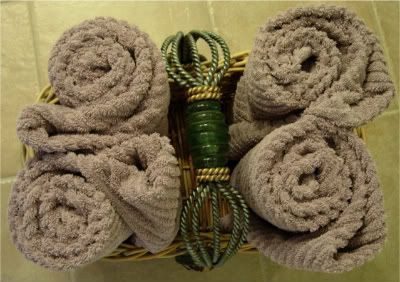 My towels are from Target. I normally don't go for ribbed towels, but Tom bought these for me for Christmas one year and I've grown fond of them. Not to mention, purple is one of my favorite colors.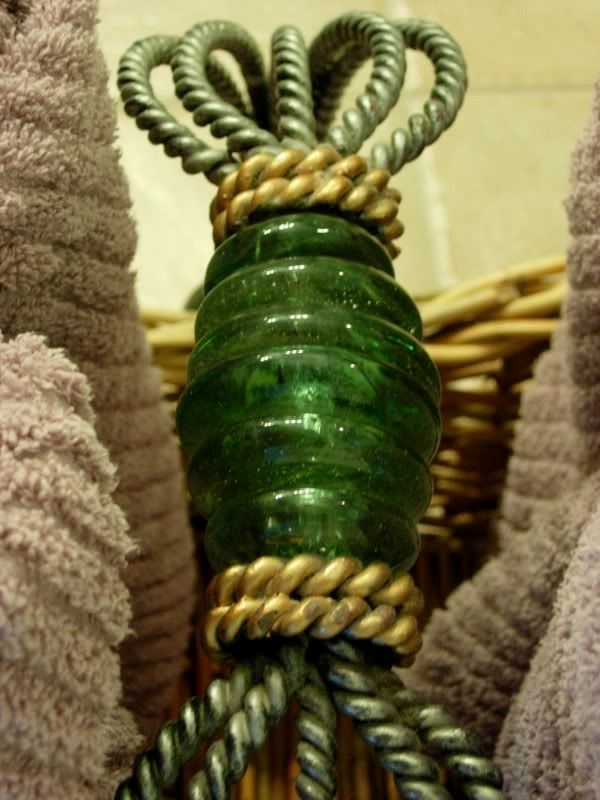 The glass disk theme comes right up to the handle. All of the disks have a hole in the middle and turn freely on the handle. There are little air bubbles in the glass that catch the light, too. It's really quite lovely.
The ribbed glass door gives a nice effect to the pots I have inside. It also hides a multitude of sins, hiding the other stuff stored inside...well, at least not making it all really visible.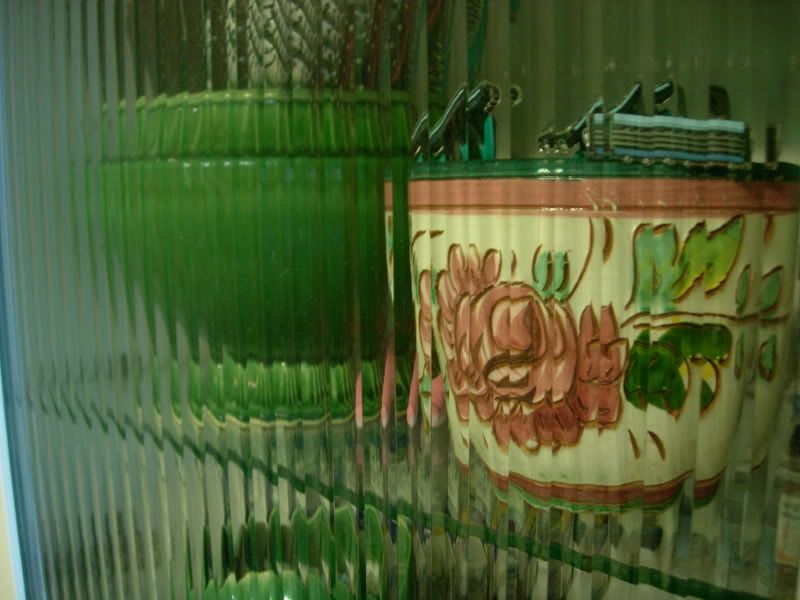 The green pot is a McCoy piece. It's been holding my hairbrushes and combs since about the day I bought it. I'm not sure why the one hairbrush is trying to escape. I didn't realize that until after I got the photos on my blog. I told you that glass was a good camouflage. The rose planter is from Italy and the design is actually carved into the wet clay and allowed to dry. Then it's painted. I found both of these in antique stores. The rose planter holds my razors.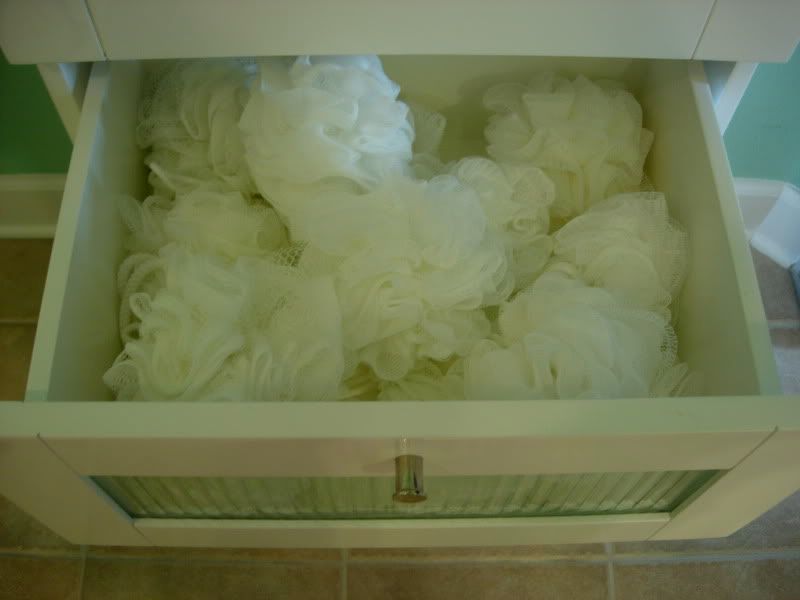 The drawer just above this one holds a bunch of stuff. Allergy tablets, Zicam, other cold medicines - stuff that would be good to put in a medicine cabinet, which I don't have. I hide the contents by using a rolled up wash cloth and put it in front of the glass.
This drawer is the scrubbie drawer. I didn't use the flash because it washed out all of the texture of the white on white. I love my scrubbies. I use them like washcloths in the shower and I toss them into the washer with the white load. I have some pink scrubbies and green ones, but I guess they were all in the hamper.
So this is my bathroom cabinet that makes me happy. Makes me smile every day.
I hope you have something in your everyday that makes you smile.
Kristin