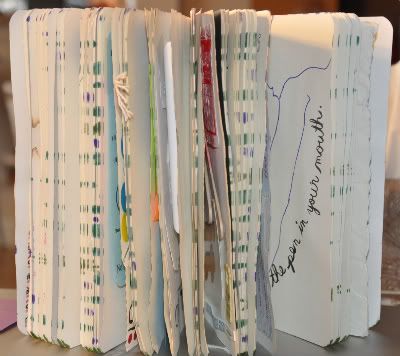 Welcome
to this weeks
Wreck This Journal
update!! I've done a lot of wrecking, drawing, handing the book to friends, asking them to write in it and I even sent off the "ask a friend to destroy this" page in the mail to a friend that has two young boys. I can't wait to see what they end up doing with that page.
I spent most of last week going door to door to all of Wreckers that participated in
Jamie's The Next Chapter
group. Everyone who participates has the exact same journal, but everyone does something different or interprets the prompts on each page differently somehow.
If you get a chance, please go visit some or all of the
Journal Wreckers
at The Next Chapter.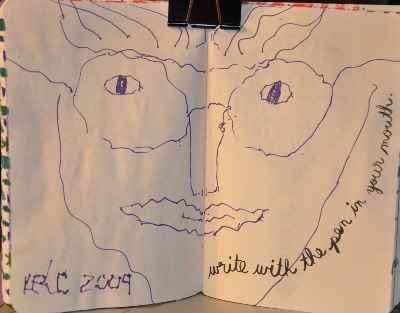 Write with a pen in mouth.
I really disliked the prompt for this page because I'm not an artist and I don't just come up with things to draw. So writing with a pen in my mouth, concentrating on moving the pen, there was virtually no way I could think of what I was drawing while concentrating on getting the pen to stay in my mouth and draw on the page.
So I did what any non-drawer does. I saw a picture of a girl with glasses and I said - BINGO! that's what I'll draw! So that's how I came up with the subject material for this particular masterpiece :)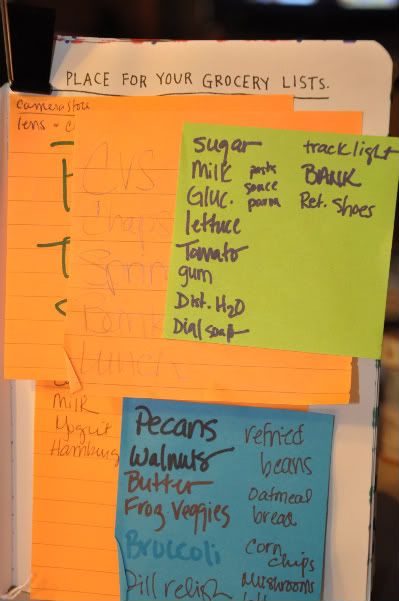 I write out all of my grocery lists on post-its, so when I was finished with them, I put them on the
Write Your Grocery List
page. I noticed that on one of the orange notes I put down Yogrit. My sister used to say that when she was a kid and I've never stopped grinning over that particular word, so I use it when I can. I know...it's yogurt.
This is my contribution to the
Magazine
page...this came from
SKIRT
magazine. I think it was last months issue. You can click on the picture to enlarge it to read the text. I made little cuts on the side to make it sort of skirt-flirty. I've fluffed it up several times, but it goes flat as soon as I close the book.
I colored in the opposite page. Not quite sure what else I'm going to do with that page, but it needs more.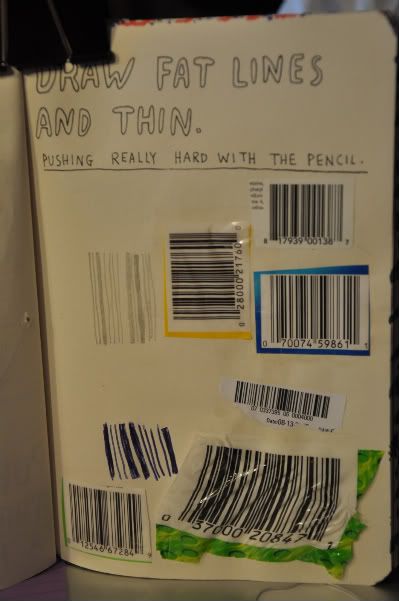 I drew two sets of
fat lines and thin lines
and thought they looked like bar codes, so I started taking the bar codes off of items that I purchased and added them to this page. Fun, huh?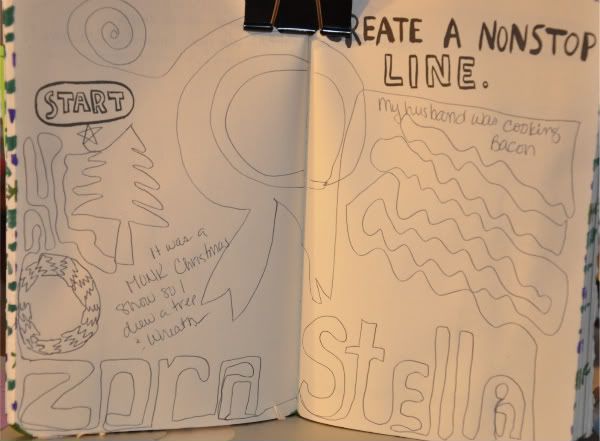 This was a lot of fun. I was looking forward to doing the
Create a Nonstop Line
page. I was watching the TV show MONK while doing this page and it was their Christmas episode, so I drew the wreath and the tree. My husband was frying up some bacon, so that's what the wavy lines represent. Zora and Stella are my nieces and since I was thinking of them, I added their names to the non-stop line.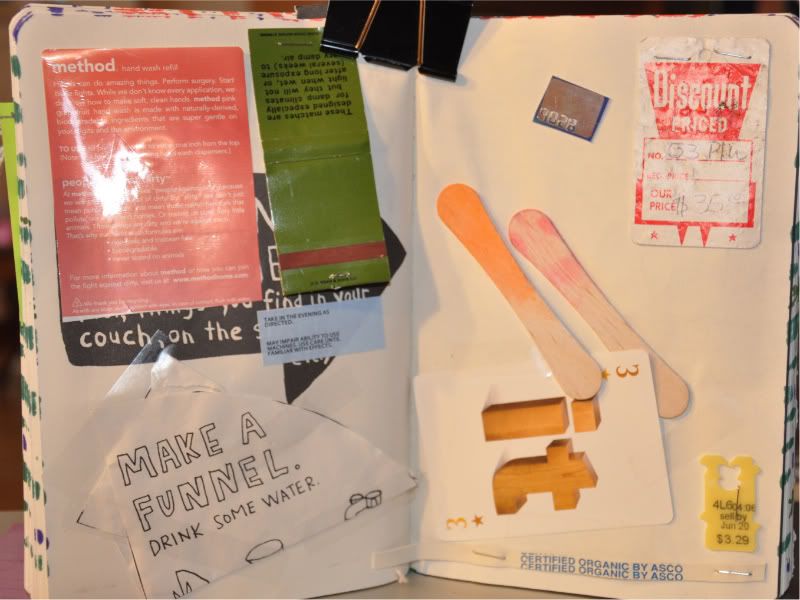 This the
Found Objects/Things
page. Some of the items were found in my house, but several of the items were found outside. I tore out the
Make a Funnel
page and then I drank the water from the funnel. After it dried, I put it here. The "it" card is an eBay promotional card. I've got a bread tag, a rubberband from some veggies, popscicle sticks, a discount tag, the little bird from an expired CC and the match book cover from a book of matches that came in an MRE (Meals Ready to Eat) that I got during Hurricane Francis a few years back. I think this will become more full by the end of July.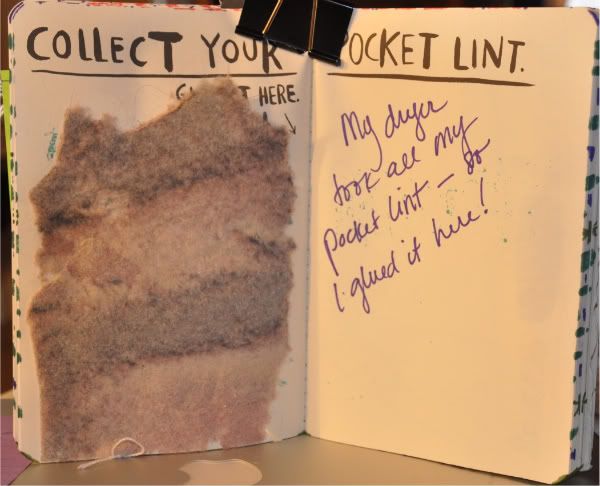 Someone else in the WTJ group also used dryer lint for the Put Pocket Lint here page. I don't normally wear pants with pockets, so this really was my non pocket lint, I'm just positive!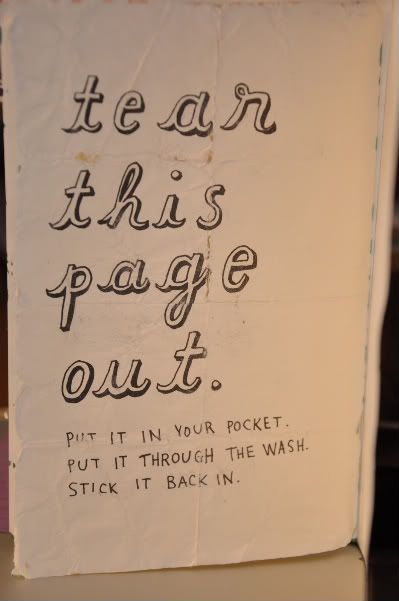 Tear this page out - Put it through the laundry
. I did! I taped it to the last page and back cover of the book.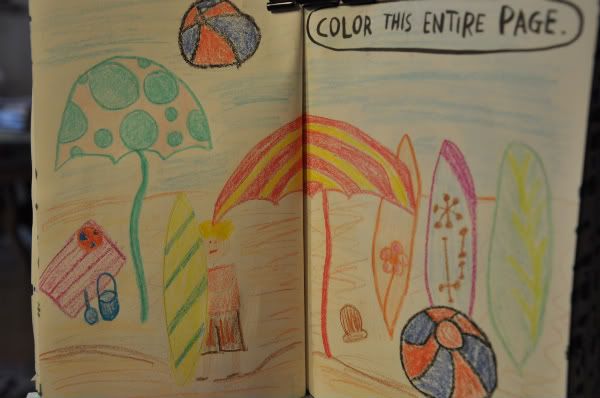 Remember when I said I needed help getting a picture together in my brain in order to draw? Well I went over to Claudine Hellmuths blog and saw this beachy picture and immediately sketched the Kristin version on the
Color This Entire Page
page. So this picture was inspired by
Claudine Hellmuth
. I enjoyed coming up with the design and coloring it, it was a lot of un.
I worked on so many more pages, but I'm going to hold off showing you all of them because I'm going to need to show something the last weeks of the event! I'm cruising through this book and am really having a blast.
Thanks so much for stopping by.
Have a wonderful Fabulous Weekend!
Kristin