I posted this for Make Do Monday, but it's also fabulous for
Works For Me Wednesday
! So I'm linking to it as well. Works for Me Wednesday has several hundred folks participating, all giving their great tips on what works for them with housework, family get togethers, dinners, kids snacks, toy purchases, making gift baskets - whatever! This week Kristen at
We are That Family
is talking about her best tips for traveling with kids. It's quite a list! So go take a look.
I've been totally out of Make Do ideas for the past few weeks, but yesterday my sister sent me an email with her Make Do (complete with pictures!) Thanks Alison!!
The whole idea around
Make Do Mondays
is...as
Ann Kroeker
says on her blog, "...we discuss how we're simplifying, downsizing, repurposing, buying used, and using what we've got. It's a carnival celebrating creative problem-solving, contentment, patience and ingenuity."
First off, I'll start off with a cropped close up of my darling niece, Stella. I haven't seen her since Thanksgiving...oh be still my heart, I miss this child. She's sporting some lovely beads!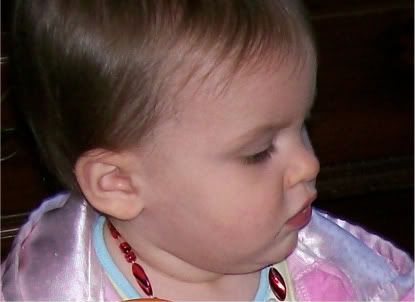 Here is what Alison sent...The story goes that I like to Swiffer but the pads, wet or dry, are so expensive and I think they don't go as far as they should. The wet dry out too quickly and the dry get covered up so fast it is annoying, but I love getting under furniture with the wand. So here is my solution when I'm feeling desperate.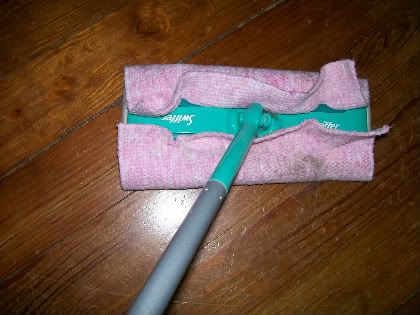 I use disposable wipes you can buy in the huge rolls for about $4-5 (75 ct). Sure they may be a bit smaller, but they do the job and are cheap! Then, for dusting, I put a washable dust cloth on the Swiffer head and spray some dusting polish on it. Works pretty well. I think it is a pretty creative way to get around the expense.
Alison
Kristin here...I have to say, you might not want to use furniture polish on floors as it can make them very very slick. Test a small area first, if you do decide to try that method. (Actually, if you are just putting a little on the cloth it probably won't make the floor super slick, it probably just helps to attract the dust bunnies. I would highly discourage spraying the polish on the floor.)
You can also use a spray bottle and spritz the floor with water and go over them with that microfiber cloth and the floors will clean right up. This is how I wash my floors.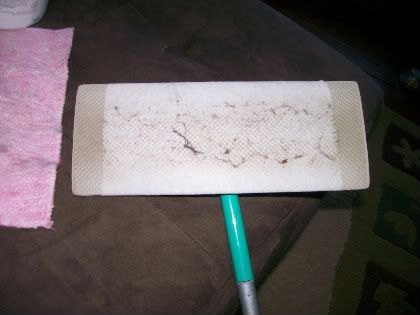 It looks like she got a lot of dirt off of her floor. The cloth goes in the wash and the disposable wipe in the trash.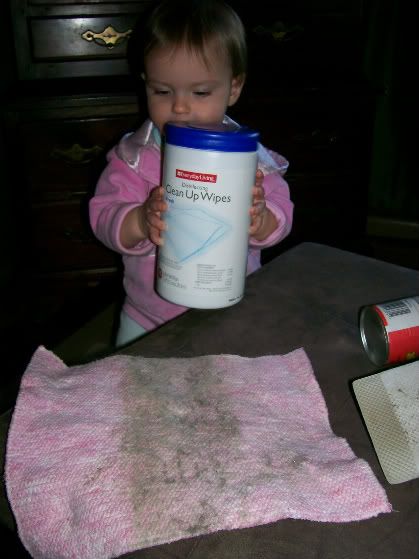 I think Stella thinks mom needs to make another pass with the disposable cloths. :)
Thanks so much for stopping by my place for
Make Do Monday,
if you have a chance go on over and check out what others are doing for Make Do Mondays. I hope this little trick will help you clean house and keep more dollars in your pocket!
And now that it's Wednesday, check out
Works for me Wednesday
participants!
Have a fabulous week!
Kristin