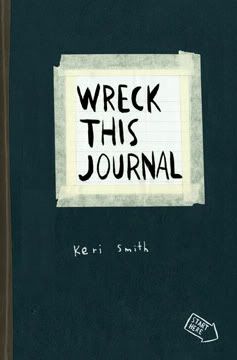 I decided to get out of the house and take a walk. I didn't want to run or jog or anything real strenuous, I just wanted to walk. So I went to the St. Johns Town Center. It's this very large mall-like place.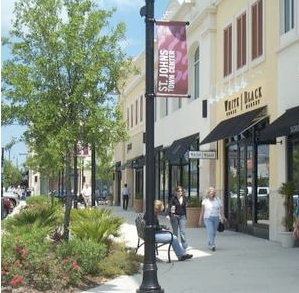 There's lots of room to walk and I didn't need anything, so it was going to be just a nice time window shopping and enjoying the fairly cool day. I actually got about a mile away from my car when the clouds started coming in, so I ducked into Barnes and Noble.
It started pouring.
Really really hard.
For about an hour.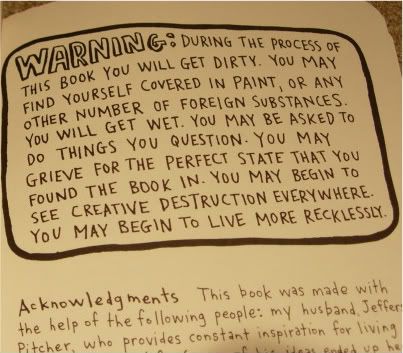 An hour is a really long time for me to be "forced" into staying in a bookstore. I wandered around and around and every time I picked up a book I thought, "I can download this on my Kindle." So I started thinking about what I couldn't get on my Kindle and that sent me into the creative section of the store.
AKA - books with pictures.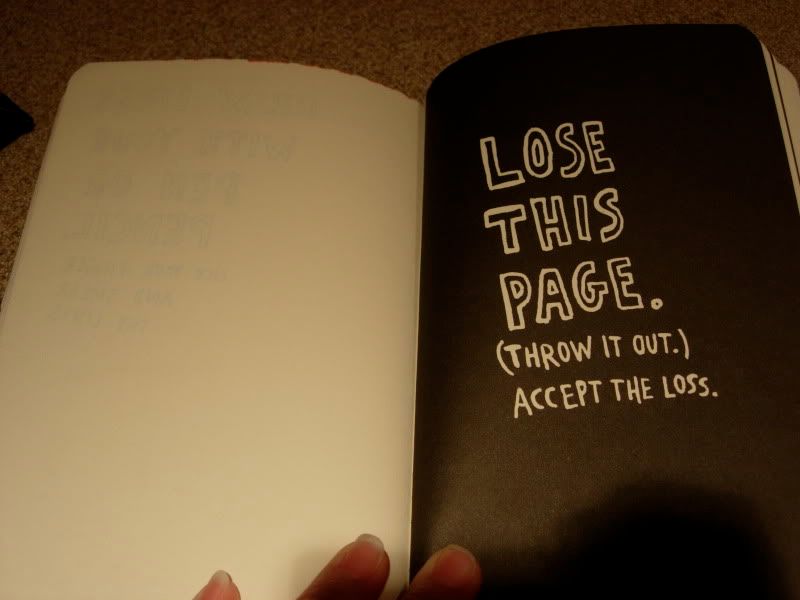 I found a few books and two magazines, but this book "Wreck This Journal" is going to be the most used and abused. I hope to show you some of the pages as I work on them in the future.
The whole idea behind this book is to use it, color in it, draw, scribble, catch it on fire, tie a string around it and drag it behind you and rip out some pages! EEEEK!
I'm the type of book reader that when I finish a book, it doesn't even look like it's ever been opened. I don't bend pages, crease them, or even open the book all the way. I open it just barely far enough to read into the crease. This book is going to be a real challenge.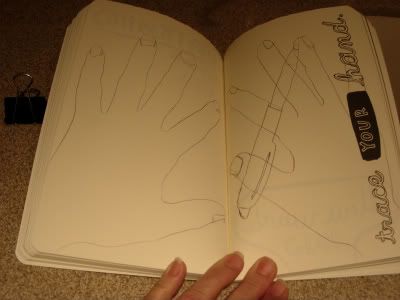 I did manage to trace around my hands and then decided to add the pen in that I used to do the tracings. I'll need to color them in. I have a brand new, never opened box of Crayola 64. I've had it for about 20 years. Never been used. I don't know what I'm waiting for...maybe it was this journal!!

I like the idea of a non stop line. I've been making my own calendar pages each month and I'm getting tired of ink pads - maybe I'll use the continuous line to make the August Calendar. Ooooh, this book has already sparked a creative off -shoot!
I do believe the line will have to stop at some point, because I could never be able to finish, but I have visions for this page.
One of my favorite numbers is 22, so that's where I started.
There are no rules. OK, there are a few rules, but we can break them.
The author of this fabulous book is
Keri Smith
- she has a website devoted to
Wreck This Journal
where people have loaded their own finished pages into the
Gallery
section. I will mention that not all of the submissions are PG. Most are quite tame, but there is a page in the book that says to write here when angry. Some people wrote angry words...
I've already bent the spine, wrote my name on the top edge of the pages, traced my hands and on the page that said "chew this page," I got my cat to chomp on it. She loves to eat paper.
I hope you've had a fantastic, creative, restful, sunshiney weekend!
Kristin
Here's someone who has gone through two of these journals. Just see what she's done -
Kitty Pink Stars
- you can click on the individual pictures to see a larger version.