I've been having so much fun Wrecking my Journal. I can't even begin to explain how much fun this has been, but I'll try. Let's start with some pictures and I'll explain as I go. You can click on any of the photos to enlarge the image.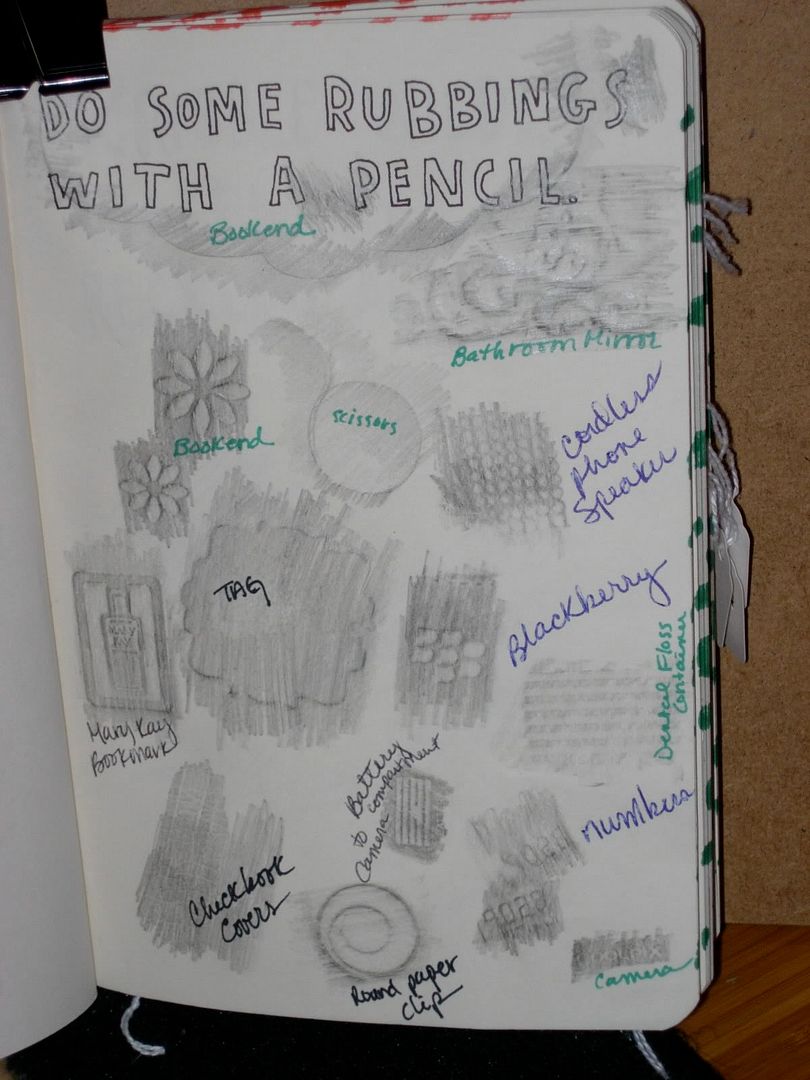 Pencil Rubbings.
This was fun. I started looking at everything around the house picking it up, examining it, seeing if there was a texture on it that would transfer well to the journal. I found quite a few things! The checkbook covers didn't transfer as well as I'd hoped, but the little flowers from my bookends were marvelous as well as the little Mary Kay bookmark.
This was the
Glue or Staple this page to another page.
I really wanted to put this picture (from the May issue of Skirt Magazine) in the journal and couldn't find a place for it - until I saw this page. I figured if I glued the magazine page over both pages it would be like I'd glued them together. :) Well, in my rule book they are now forever glued together! and I get to see the gorgeous picture of the girl with keys sitting in front of a yellow house.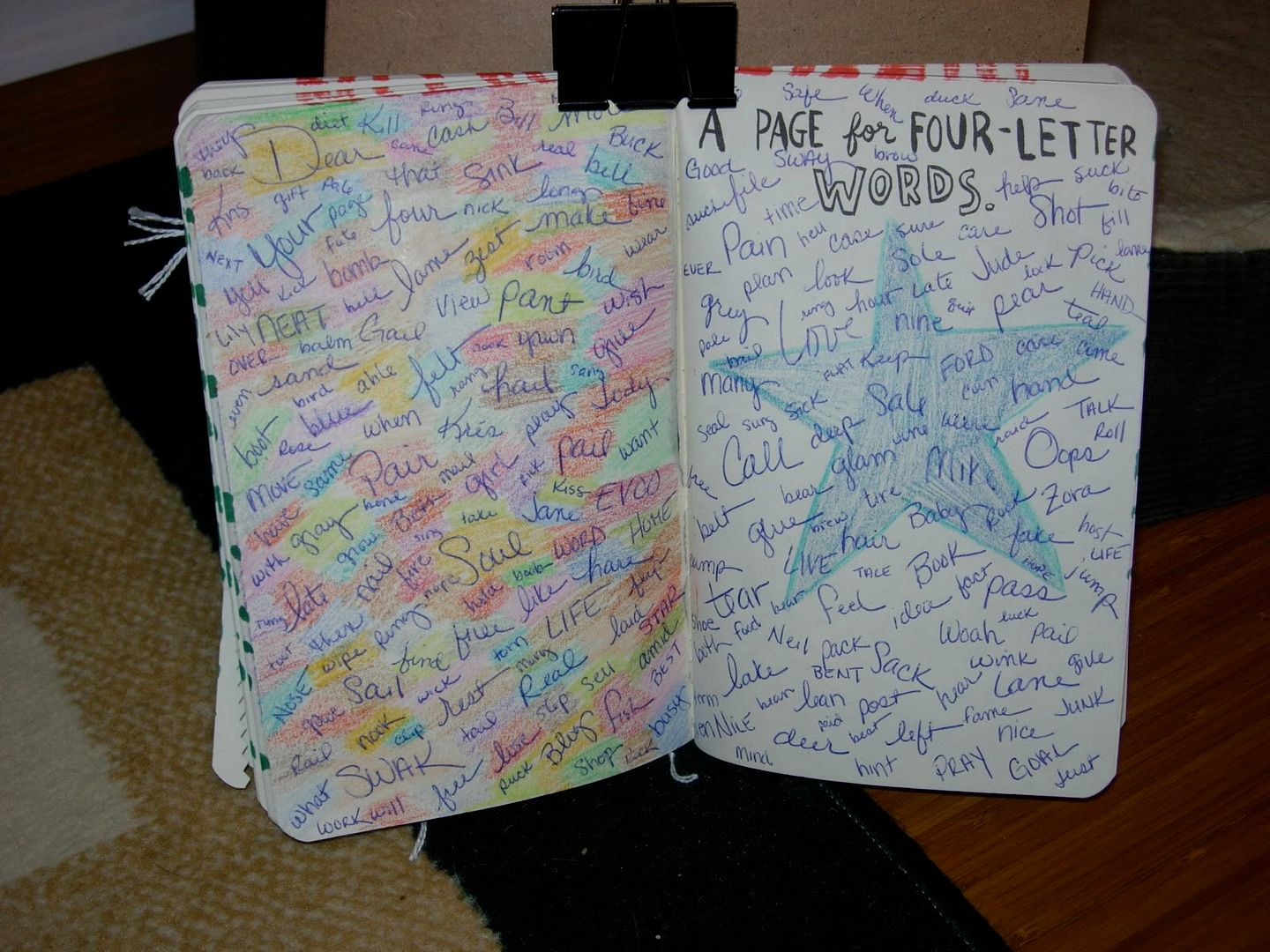 Here are all of the
4 letter words
that I could think of...all G rated :) I found only one duplicate in the bunch, but I'm sure there are several. I'm positive I spelled something wrong, even at 4 letters there is a reason I got a B- in spelling. haha I really like my handwriting, always have actually. I used just the right pen for this page and everything turned out real nice.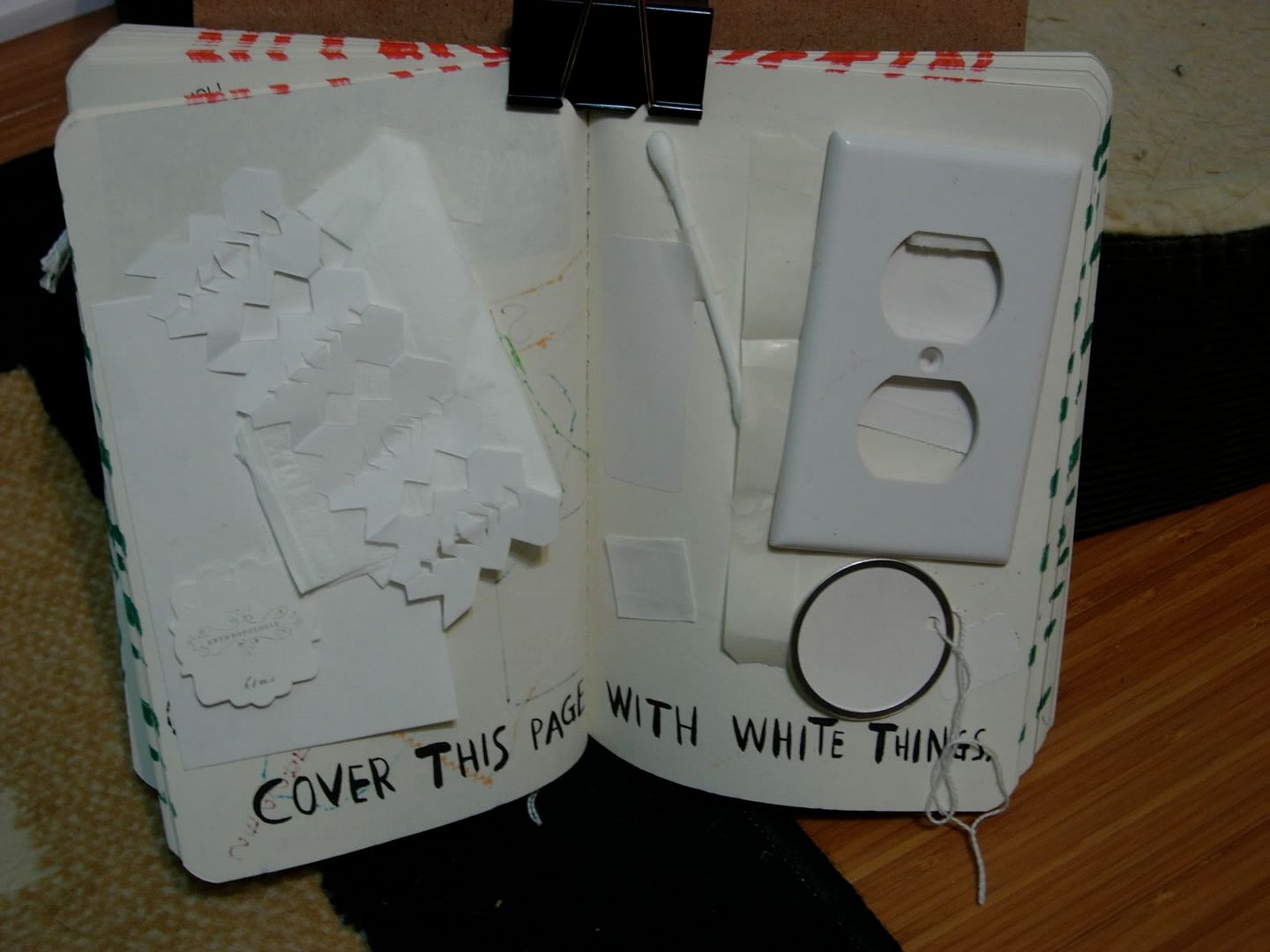 Cover this page with White Things.
I made a snowflakish type cutout, I taped on a q-tip, an index card, a tag from an Anthropology dishtowel, a white foam sticky thing that I then attached the outlet cover to, the backing from the foam sticky thing, the leftover backing from my address labels, a metal rimmed tag, a Kleenex, a white address label and a small sticky tag.
This is the
Office Supply
page. I really enjoyed making this. I was surprised though at how few things "officey" I had to place on these pages. A lot of items I wanted to put in there were way too large. I redeemed myself though and found punches that we used at the Dancing Goat Coffeehouse and at our Burger King restaurants. (they didn't show up in the photo) I also really liked the divider label, the many sizes of tags and of course my Thank You stamp. I stamp Thank you on every one of my checks that I write for my bills. The whiteout and the highlighter look cool, too. I found a whole little box full of see-thru dots, so that added a whole bunch of colorfulness to the page.
Lose this page.
I tore it out, then clipped it to the outside of the journal. I was hoping it might just fall off somewhere, but that didn't work, so I threw it away at the supermarket.
One of the pages calls for the wrecker to
sleep with the journal
and document the event. I slept with the journal on Monday night. I put it under the kitty blanket that we have at the end of the bed. (I trained my kitties to stay on the blanket and not go wandering around the bed) So I put the book just under the blanket and between my husband and I in the bed. When Mocha made her way into bed she came up for her nightly scratch on top of her head and then went to her place on the blanket...until she ran into the journal. She was terribly excited! and proceeded to sleep on the journal all night. I checked on it the few times I woke up and it was being well guarded. This morning the journal traveled out of the bedroom and back onto the couch. Good fun was had by all :)
To find more fun Wreck This Journal adventurers, please go to
The Next Chapter
Week 3 of Wreck this Journal.
I visited a few links a day last week and I found it to be a lot of fun seeing the creativity of all of the people who participated.
Enjoy!
Kristin