Welcome to Thrifty Thursday! Leigh over at
Tales from Blogeritaville
hosts this carnival showcasing those things we have found, purchased, acquired or otherwise located and deem to be thrifty!
This week Leigh is talking about this great mirror she found and a few other fun things. After you've read my thrifty finds, please head on over to the
Thrifty Thursday
headquarters and see what other thrifty fun others have included.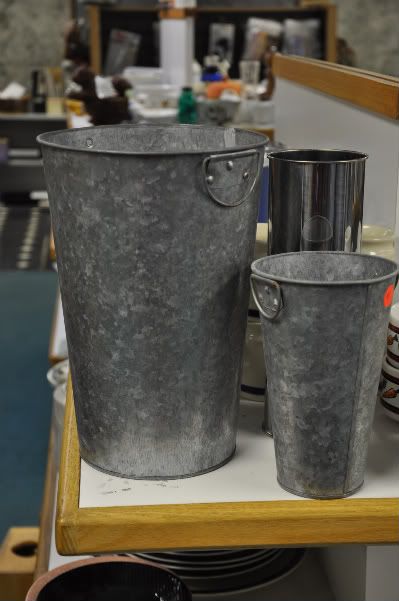 I went out to a few local thrift stores this week to test out my new camera, but also to find something new for Thrifty Thursdays. I have to say, our thrift stores are not very exciting compared to the stores I see so many folks talk about. The Humane Society thrift store was the best of the whole group I toured. :)
The two galvanized flower buckets above were $1 each. The small one was quite small - probably one small bundle of flowers would fit in there, but the large one is the one I was wanting. I use flower buckets as trash bins. They are usually a lot less expensive than a decorative waste bin you find at Bed, Bath and Beyond (Some of those are $30 or more!) unless of course you want a small plastic bin...those are pretty cheap. I love to use the these. I had a spot for this one, too (next to the couch in the living room) but forgot to snag it! I was too busy taking pictures.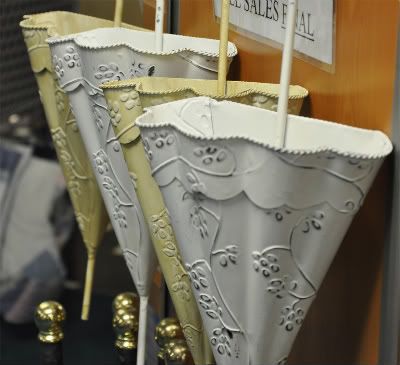 These were door hangers - they even had a rather large hook a the top. These were brand new and priced at $2. This would be fun to put on a little girls bedroom door and put treasures into, notes, a small teddy bear - I can see so many uses!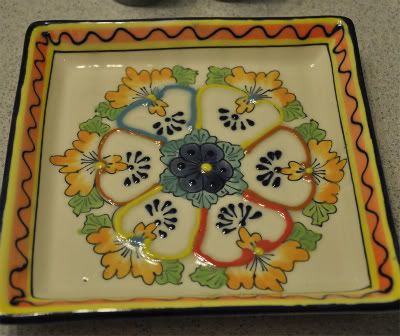 This platter was from a little roadside pottery warehouse. I love pottery. I took a few dozen photos inside the place. But I wanted this tray. It's about 10" square and I knew it would look lovely sitting on my bathroom countertop. The larger tray was about $40, but this one was $15. I bought it and it really does look nice on my bathroom counter!
I hope you have a fabulous day!
Kristin