I've really been enjoying Marie's
Post Card Friendship Friday
(PFF.) She lives in France, so the past few weeks I've been very late coming to the party. Since I had some caffeine today there is no sleep in my body at the moment, so I'm kind of early (for me) getting to the blog party!
The whole idea behind PFF is to "Have a blast with this mail theme! Examples include: any type of postcard, a photo of a mailbox, mailman, a stamp image, postcard altered art, or simply a photo of something that you find 'Postcard Perfect' etc etc etc!"
I've been going through this book of postcards that I got at an auction many years ago. The people who saved these postcards lived in Michigan, so there is a strong Michigan theme about the cards. Since I grew up in Michigan, it's dear to my heart.
image - Google Earth
Here is my lovely home state of Michigan. The two Michigan cities where today's Michigan post cards came from are marked on the map. You can click on the photo to make the image larger.
This is probably a view of White Lake, a rather large body of water that runs through Montague, MI. I guess I moved the postcard, it's a bit wonky. There wasn't any writing on the back of this postcard, nor date. This type of postcard is about my favorite - it looks almost like a water color painting and the card is actually textured, almost like a linen card.
This is Mackinac Island (pronounced Mackinaw) - It was mailed in 1937 - August 12th. The island is a big tourist destination in Michigan and is known for being a place where there are no cars allowed. Bicycles, horse & buggy and walking are the transportation of the day...just as it was in 1937! I have never been to the Island, but at some point I would really like to go.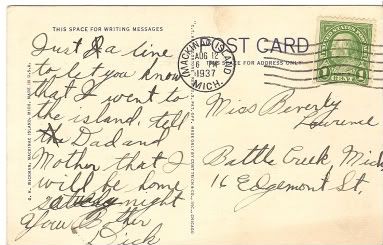 Just a line to let you know that I went to the island.
Tell Dad and Mother that I will be home Saturday night.
Your Brother Dick
This is the Terminal Station in Jacksonville, FL. It was turned into a convention center with nearly all of this original building being a part of the updated center. I actually had not realized that fact until just a few minutes ago. The interior of the Prime Osborne Convention Center still has some details of the old train station, but there are no more train tracks nor people waiting for mass transit. This card was mailed October 11th, 1941.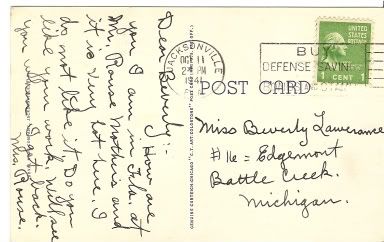 Dear Beverly,
How are you I am in Fla. at Mr. Rouse Mothers and it is very hot here.
I don't like it. Do you like your work.
Will see you when I get back.
Mrs. Rouse
I live in Jacksonville, FL now and I find it very interesting that these vintage postcards from this family's estate also included a few post cards from Jacksonville.
I hope you've enjoyed the postcards. Come back next week for another addition of
PFF
and please go and visit the other participants as you never know what they are going to post!
Have a Fabulous Friday!
Kristin