Welcome to another edition of
Thrifty Thursday
hosted by Leigh of
Tales from Bloggeritaville
. A fun little time to hunt around the house, the garage, someone elses house and garage or even a thrift store or two to dig up some cool finds. Be sure and check out the other Thrifty Finds, from the other participants.
This week Leigh is talking about some very good deals on some outdoor planters. I don't know how she finds these deals. I think they must magically appear!
I found some good items to share with you, from my house this week. I've purchased them long ago, but the thriftyness is still there. :)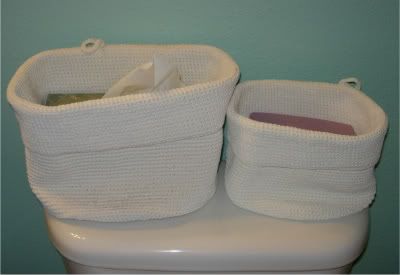 Lidan baskets
- IKEA, set of 2 - $9.99 (
set of 4
- $14.99)
When I saw these soft, flexible, woven baskets I thought they'd be perfect to corral some of my stuff in the bathroom. After bringing it home, I realized the Kleenex box fit in the large one and that both would fit on the tank. PERFECT! I don't like tissue covers as a rule so I'd always had the box perched on the back of the tank, but I liked the idea of having the box sitting
in
something rather than covering it up. One of the best things about these baskets, the thing that makes them better than a regular basket is that these can be tossed into the washer! You can't put them in the dryer, but to be able to wash them is fabulous! I've had mine for about 3 years now. So far that's about $3.33 a year. Not bad!
The set of 4 are not round - they are square and are 4 different sizes. They weren't a good fit for my bathroom, I could tell in the store, but they just may be the ticket for your home, so I included the link.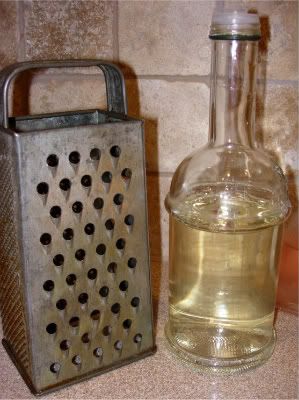 Eons ago I was in an antique shop when I spied this box grater. I've been searching for a grater that wouldn't bend when I grated my own Parmesan cheese. I'd been through several graters and was truly disappointed with the quality I was finding in the kitchen stores. This grater is steel. It rusts if you let it, but I don't. :) But if it does rust, it comes right off. Not a big deal. It was $6. I've now had it for almost 12 years. I'm sure it was used for a few decades before I got it. It grates the hardest of cheeses without bending. The teeth of the grater are sharp and stay sharp. It is one of my favorite kitchen items by a long shot.
The last thing is the bottle sitting next to the grater. That's my dishsoap. It's in an olive oil bottle that still has the pour spout that came with the oil. Cost - Free! after of course using it as it was originally intended. (I had another bottle that I was using for soap, but I wanted a change, but didn't want to spend any money. This was perfect!) I really need to get rid of that metal ring around the bottle top. oops.
I've been going through IKEA withdrawal lately. I've been dreaming about the big blue and yellow store - OK daydreaming about it. I don't remember my dreams. I've been trying to figure out what I could possibly need from IKEA in order to make the 3 hour drive worth it. (I don't have any excuses to go) I've been wondering if I need to buy gifts for people, where going to IKEA would fit the bill. (I haven't thought of anyone who NEEDS an IKEA gift.) So I'll just have to indulge my need by looking at their catalog and telling you all about my fun little baskets from IKEA.
You all have a Fabulous Thrifty Thursday!
Kristin