Hello! It's that time again for the blogging mail service to come strolling through via Vintage Postcards -
Postcard Friendship Friday
. I set out this week to photograph something mail related that was interesting and I found it. I'm sure everyone participating in
PFF
found something interesting, too, so be sure and check out the other participants.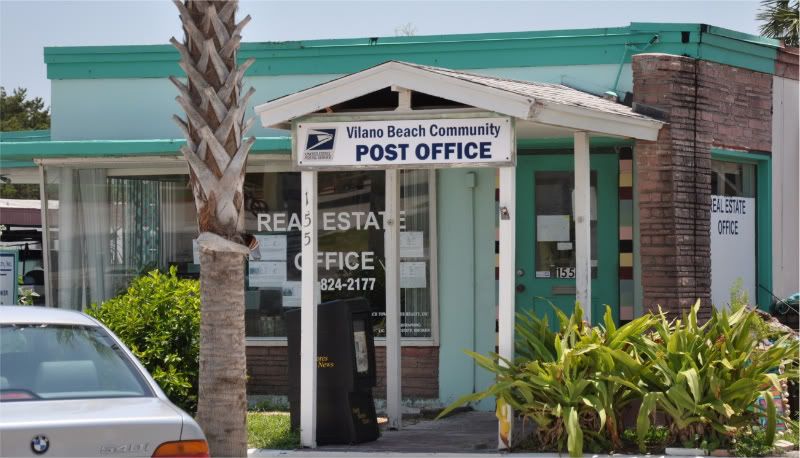 I went to the beach yesterday to take photos of the Vilano Beach community because I knew there were some old motels there...some of my favorite Florida sights. When I saw the Post Office I was thrilled! But then I noticed that it was both a post office and a real estate office. I don't think I've ever seen that - how funny!
The building where the post office is located is a vintage building, too. I love the minty green colors.
Directly across the street from the post office is the Haley Court Motel. Isn't that a great sign! I just realized that I may like that sign so much because I have those colors in my house. My bedroom is yellow, my bathroom and computer room are the seafoam green and my entryway and living room is red. Hmmm, very interesting!
This is the plaque at the base of that motel sign. If you need to enlarge the photo, just give it a click :) It looks like the sign was erected in the 40's or 50's. I wish there was a more specific date for the sign, but I guess they don't have one!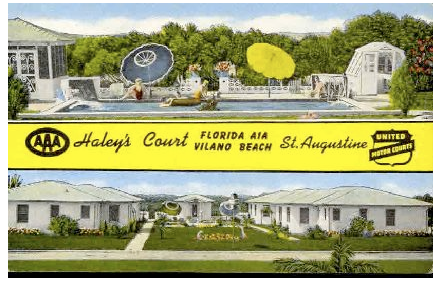 This is a postcard I found on
eBay
of the vintage motel. It's the same scene as on the plaque describing the sign.
I met Johnathon and Summer outside of the Haley Court Motel. They were riding their bikes and wondered what in the world I was up to. Johnathon was about 10 and Summer was 8. Summer told me that Vilano means colorful and friendly. I told her that she was very fortunate to live in such a place.
I think that a few people actually live in this motel. A few of the windows will full of knick knacks and the front patio full of plants. There was a front office and the kids said that the place fills up quite frequently. Summer said that she plays with the vacationing kids quite often.
These colors are just so much fun I can hardly get enough of it!
and the final shot of the Haley Court Motel was of the mailbox and street number. I think you can tell from all of the photos that this is a well maintained and well loved motel.
Thanks for coming along! Have a great day!
Kristin