My sister moved into her new house today. I'll be going home in a month, so I'll see it soon it enough, but I wanted to send a card.
This card is one of my very favorite cards, which is unusual, because it has glitter on it - and I really dislike glitter. However, I love the chandelier. I've got a thing for them lately (and lately they seem to be showing up everywhere) so I'm able to get my fix without having to purchase any of them...well except this card.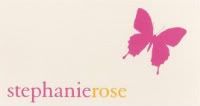 This is the person who designed this card. I found this particular card at the Fresh Market, which is a grocery store. They have just one small rack of cards and I buy one card nearly everytime I go. They are fabulous.
This is one of the things I wrote on the inside of the card. That's my handwriting :) I found this at
Housewarming Quotes
and it was perfect for my sister. I hope she doesn't read this, I just tucked the card in the mail today. Chances are she's going to be really busy unpacking boxes for the next few days/weeks to be reading my blog so I'm not too worried.
I really like my handwriting. I have many different handwriting styles but with the super fine clickable Sharpies on a nice smooth paper, it usually turns out just like this. I think it's really easy to read, hope that's the case when you read it!
Hope you have a fabulous weekend.
Kristin