It's Friday Fragments Day!
It's Friday Fragments Day!
It's the Dec 16th, 2010 edition of Mrs. 4444's Friday Fragments!
I'm fond of each day of the week, but I truly enjoy Friday Fragment day.
Mrs. 4444 has gathered many wonderful bloggers to Frag on Fridays and we love her for getting us all together.
Thank you!
*•-:¦:-•:*''''*:•-:¦:-•
Next Friday is Christmas Eve. Wow. We are already at the end of the year. New Years Eve will be the Friday after that. Why didn't the year go this quickly when I was slogging through High School Geometry?
*•-:¦:-•:*''''*:•-:¦:-•
31 Free Holiday Printables
! from the blog Tatertos and Jello. What a great name for a blog.
*•-:¦:-•:*''''*:•-:¦:-•
Nate Berkus
, on his show the other day, talked about how you can print out things on
Post-it Note
paper! Oh my goodness. I knew there was printable magnetic paper, but not
Printable Post-it
paper. I may just fall in love.
It's true, I have a long standing love affair with paper. I adore note paper, magazines, envelopes, used envelopes, stamps, Post-its, and the list goes on. I am also a sucker for presentation. Lined envelopes are just so great, but I've never really figured out how to make liners for envelopes I already had. Leave it to
Martha Stewart
to figure out a way. She even has a tutorial,
here
.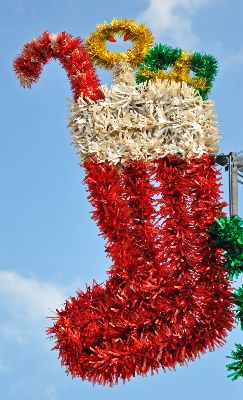 I've had Comcast in my home for the past four years now. I've had Comcast at my rental condos for just about the same amount of time. About four months ago Comcast stopped sending one of my bills. I called, I went into the local payment center, I called , I went in, repeat for four months. The only thing they kept saying was "It says here that you are being sent the bill to (insert correct address) so you should be receiving it." No. I get three bills, but I'm supposed to get four. Why isn't it coming? "It says here that you are receiving it - maybe you should check with the post office to see why they aren't delivering it." Oh give me a break. In a flash of genius I called up Comcast and said that I'd like to change the address where the bill is to be delivered. I gave the same address and asked them to please update the records. I had a bill in my mailbox in less than a week. I Rule!!
Debbie Ford -- You must give up all your old ways of thinking, being, acting, and behaving in order to form new patterns of life based on who you know you can be rather than who you've been in your past.
I think this needs to be my New Years mantra.
*•-:¦:-•:*''''*:•-:¦:-•
Creature Comforts -
Scandinavian inspired star garland
- I will never make these, but I want to be the type of person that would make these. Actually, I would make these as a gift to someone whose home reflected this style. You'd never be able to see anything that delicate in my house!
*•-:¦:-•:*''''*:•-:¦:-•
I cut my finger the other day. Not bad, it was a lot like a paper cut, but it bled a lot. Did I mention that I was driving when I cut my finger? Did I mention that I cut my finger while using a razor blade while driving? I was trying to get the little button off of the mittens I was wanting to wear, but the button kept catching on the sleeve of my coat. So I took a razor blade (I have one on the dash of my car for emergency paint scraping duties) and sliced the thread that held the button and accidentally snagged my finger, too. My name really should be Grace.
*•-:¦:-•:*''''*:•-:¦:-•
Merry Christmas from my place to yours. Happy New Year, too.
Kristin
The photos are from the Whole Foods Market parking lot. Since they won't let me take pictures inside the store, I feel like a rebel taking pictures outside the store!