The results are in and it was a winning season!
A month ago I joined the Holiday Ornament Swap hosted by
Freshly Blended
. A few days later I was given my instructions and the names and addresses of 9 other participants. We were group 11. I really like 11s. 11:11 is my favorite time of day, so I was just assured that this was going to be a great swap group.
I was not disappointed. Not even a little. I'm actually a little nervous that the dud in the swap was me, but I just won't think about that right now :)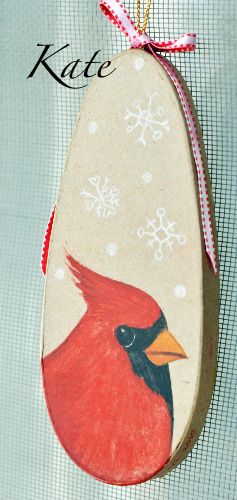 Kate painted this ornament with a Chickadee and on the other side a cardinal. If you can see, it's kind of light, she has also painted on some snowflakes. Too cute. Love the shape of the ornament and the subject.
This was the first ornament that I received. Oh goodness, I was really nervous sending out my matchboxes after this one arrived. Naomi is a jewelry maker. The tin is a spice tin that she has filled with little books and snowflakes and the glass jewel hangs below. Did she know how much I love letters and mail? Perfect.
Tonya. I got hers today. It's so cute. It's a green recycled cap of some kind with a red glitter background, Merry Christmas and a snowflake all topped with a flocked bow. It's just great and it hangs nicely in the tree.
Liz is in the midst of getting married. She sent a little story with her ornament telling us that her favorite place to eat with her Fiancee was a Chinese place, so that's why she close the Chinese soup spoon. Then she painted on the snow woman face and surrounded her with a veil and pearls.
Amber is a quilling artist. She made these adorable snowflakes and then dunked them in silver glitter. I like how the blue of the paper peeks through. I've always been partial to the blue and white decorations. I know, it's Hanukkah colors and that's not my religion, but it's beautiful.
Melissa made the birdy. It's pretty small, so she added bells to the ribbon so it wouldn't get lost on the tree. (I made up that reason - haha!) I love the red and white fabric mixed with the plaid.
Becky sent us a fortune cookie. What a perfect ornament for me and actually I'm surprised that I didn't already have one! I collect fortune cookie fortunes and we gave fortune cookies as the little gift at our wedding.
Lei made these adorable pink and red ribbon ornaments. What a neat idea! I love the simplicity of the ornament, yet it's got a beautiful shape. I don't know if I have enough hands to be able to make all of these loops and glue them altogether!
There were at least 23 different groups of 8 to 10 swappers. (that's the highest group number that I remember seeing in the
Flickr pool
.) That's a lot of ornament making! If you want any ideas for this year or even next, head on over to the
Flickr group
and take a peek at all of the holiday handmade goodness. There were more than a couple in there that I'd love to recreate.
Thank you Freshly Blended for putting this together. Thank You ornament swap friends for making this a successful and enjoyable swap! and thank you post office for delivering all of these wonderful packages so that I could enjoy them.
Thank you everyone!
Merry Christmas.
Kristin