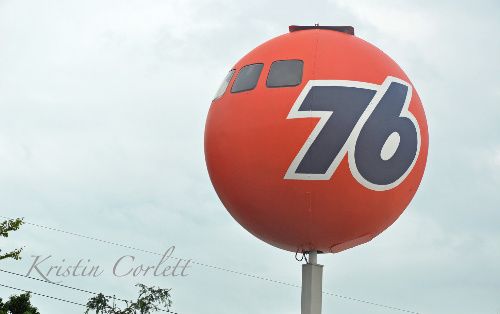 POTD - Room with a View
I didn't see any stairs leading to this 76 gasoline ball in the sky, but there has to be some. I mean why would there be windows, several sets of windows, if there wasn't a way to look out of them?!
A few weeks ago, I dropped my husband off at the dealership so he could pick up his car from the service area. I left, following the signs through the back lot to exit at a traffic light (a good idea in this busy area of Jacksonville) when I spotted this icon. I hadn't seen one in years! So I drove through the "dealership employees only" section to get close to the ball. I'm a rebel like that. :)
Enjoy!
Kristin
EDITED to add -- My facebook friend Lori Foreback and I had a conversation about this photo.
Lori
I couldn't stand it! I had to know what the windows were for =)
Until the end of 2003, 76 balls were located at the Daytona International Speedway. They were used as scoring points, had portholes, and were capable of holding a few people inside. One of these "balls" was given to the owner of Brumos Motor Cars in Jacksonville, FL, and now sits atop a building on the premises after ConocoPhillips terminated its NASCAR sponsorship. Similar balls had been placed near pit entrances at most NASCAR circuits until the sponsorship ended.
This would be the best tree-house ever!
Kristin
Awww, Thank you!! I knew there was a story, but I was up waaay early this morning and just didn't have it in me to find out the reason.
Funny thing is that I used to live in Daytona and liked seeing the 76 balls at the speedway. My husband just told me that Mr. Brumos was a racecar driver, not in NASCAR, but the Grand Road Racing circuit I do believe.
I love the conversations that come up because of these photos that I post :) Thanks Lori!
Kristin
I forgot to ask --- May I post this on my blog with your name, Lori?
Lori
Please feel free to use it, I copied it from Wikipedia, lol.
I remember summer trips as a kid and how we would be on the lookout to be the first one that saw a "Ball of '76"; what fun memories! Your POTD really made my day today, thanks for sharing =)