Friday Fragments
is hosted by Mrs. 4444 over at
Half-Past Kissing Time
. She and many others put their little bit and pieces of unrelated pieces of goodness and laughter into one post and then share it with other bloggers and their friends. Please go visit the other FF posts, when you finish with mine of course!
*•-:¦:-•:*''''*:•-:¦:-•
Ya know, I'm not a real big fan of soup, but I'm sure I'm in the minority when it comes to that opinion. I think it's because I like crunchy and soup isn't known for it's crunchy properties. However, I do really enjoy a cream soup when I'm in a soup mood. Over at According to Kelly, she put together a
Soup Exchange
and now has the 52 page document available to download. Even picky-soup-eater me has been able to find some very delicious soups that I can't wait to try.
*•-:¦:-•:*''''*:•-:¦:-•
Did you know that the month of April is National Letter Writing month?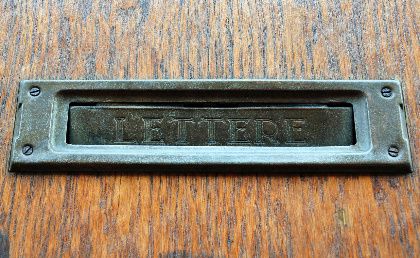 I have a not so small list on a post-it on my computer with all of the people that I want to send a letter. My sister and one of my best friends just had a birthday and I haven't gotten a card out yet. I have two friends that have been in the hospital recently and I want to send them an encouraging card. I have to two friend overseas that I haven't written to in a year - gasp! I received some lovely scarves from my cousin and I want to send a thank-you note to her and the list goes on.
*•-:¦:-•:*''''*:•-:¦:-•
Speaking of National Letter Writing Month... I found some printables!
Air Mail Stationery
from Tortagialla, who interestingly enough lives in Italy. Oh, she also made some
Spring Stationery
, too. Please go check out her blog and download the free printables and write a letter!
*•-:¦:-•:*''''*:•-:¦:-•
A few more websites that I found while following links from googling National Letter Writing Month -- I hope you find these interesting!
Every day should be a red letter day
and here's someone who wrote a lot - a lot - a lot - last month -
here.
I can't believe how many letters and cards she send out. I've always liked to collect stationery and use it, but I use it much less than I collect it!
*•-:¦:-•:*''''*:•-:¦:-•
One of my new favorite quotes that I heard (or rather reheard) today in the movie
Working Girl
..."I am not steak - You can't just order me."
*•-:¦:-•:*''''*:•-:¦:-•
My husband has been gone for a few days, I spent nearly all day yesterday at the Mayo Clinic and I'm just plain behind but it sure is nice to be a part of Friday Fragments :)
Have a great weekend!
Kristin