Friday Fragments
! This is the Memorial Weekend edition of
Mrs. 4444
weekly event. It's one of my favorite places to go to find new blogs and to read some very funny stuff. I can't wait to spend some time reading all of the Fraggers this weeks. It's been ages since I've been able to read all of them, but I think I'll be able to do it this time.
I want to THANK all of the people who have made this country great by keeping us safe. Thank you. Happy Memorial Day Weekend!
Today is a link fest of sorts. Nearly everything that I collected this week was something that I read that I just had to share! I hope you get a few moments to click on the links. I narrowed it down to the bare minimum, so it wouldn't be overwhelming.
*•-:¦:-•:*''''*:•-:¦:-•
Mrs. 4444 is having a
Gratitude Giveaway
on her blog and one of the prizes is from little ol' me. If you'd like to be a part of the celebration and possibly win a fabulous prize, head on over the Gratitude Giveway.
My friend Terri,
This is How We Roll
, from is also having a giveaway. I have nothing to do with this one, but while I'm talking about fun giveaways, I had to mention Terri!
*•-:¦:-•:*''''*:•-:¦:-•
My sister sent me a photo of baby Scarlett with her little fat roll legs. I'm not going to be able to show that photo, but what I will do is link to
Pioneer Woman's post about a cutie patootie!
You have see this little baby and her legs and her smooth moves :)
Here is my photo of baby Scarlett, my niece. I love her eye color in this photo.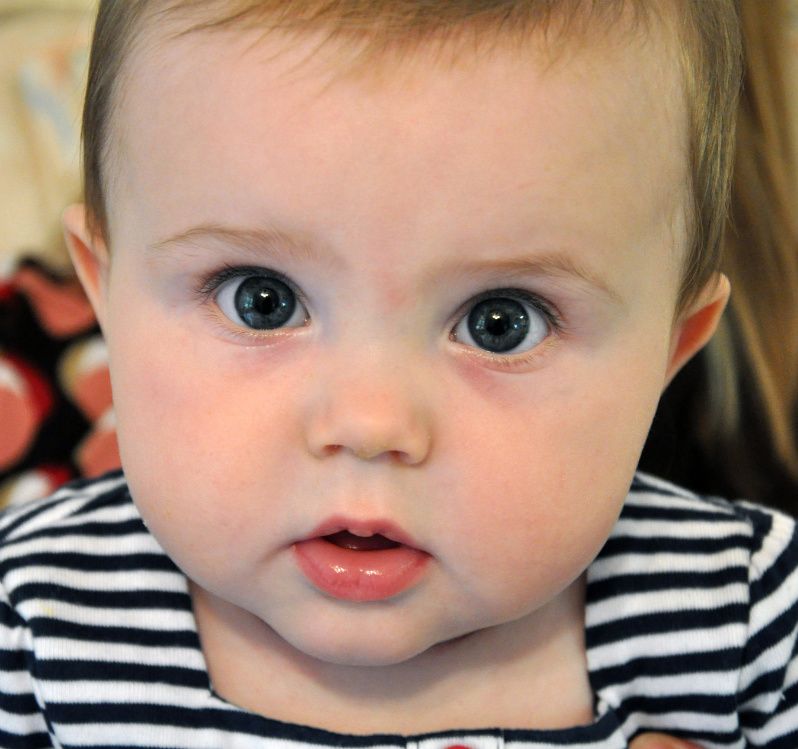 *•-:¦:-•:*''''*:•-:¦:-•
Do you know someone who'd love to have a piece of art from all of their friends and family? What about a big birthday coming up for someone far away? Or maybe a college kid who is getting a bit homesick? Here is a fun project! You send out cards to friends and family and then when they send them back they make a picture for the recipient from
Oh Joy!
I would love to be able to do this for someone.
*•-:¦:-•:*''''*:•-:¦:-•
I've tried a few times this week to remember pick up some Greek yogurt so I could make the
Tzatziki recipe
from Little Brown Pen. Tzatziki is a yogurt, cucumber,garlic and dill sauce (or dip or dressing) that I just a wonderful addition to scrambled eggs or cold chicken or even a gyro! Yummy. (the recipe is at the very end of the post)
*•-:¦:-•:*''''*:•-:¦:-•
I saw this little ditty and I should have it as a daily mantra. I should actually chant it while I clean out the boxes of stuff that I keep holding onto. There is a lot of wisdom in these 9 lines.
mnmlist : less
Stop buying unnecessary things.
Toss half your stuff, learn contentedness.
Reduce half again.
List 4 essential things in your life,
stop doing non-essential things.
Do these essentials first each day, clear distractions
focus on each moment.
Let go of attachment to doing, having more.
Fall in love with less.
*•-:¦:-•:*''''*:•-:¦:-•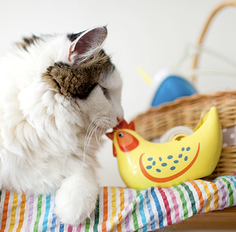 I adore
Color Me Katie
and her cat, Moo, is such a hoot. She posted the
12 Things She Loves about Moo
yesterday with 12 wonderful photos. You may fall in love with Moo, too!
*•-:¦:-•:*''''*:•-:¦:-•
If you didn't get a chance to read my post yesterday about the
SIGH
in my life, please do. I think my husband and I are going to need some prayers. Thank you.
*•-:¦:-•:*''''*:•-:¦:-•
I hope you have a lovely holiday weekend. Be safe and take care!
Kristin